Refs Missed an Obvious Hold on the Chiefs During Patrick Mahomes Big Run on Final Drive Against Jets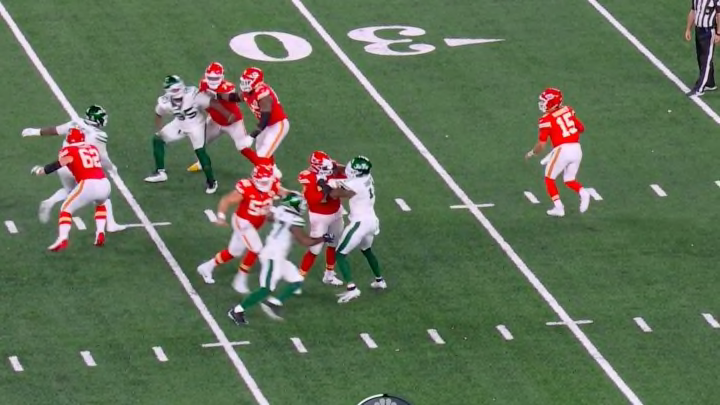 The Kansas City Chiefs beat the New York Jets, 23-20, on Sunday Night Football in Week 4. The game was much closer than most people expected it would be, as Patrick Mahomes threw two interceptions and Zach Wilson put in a pretty competent performance. The Chiefs were able to put the game away with an epic final drive.
Just kidding. It was a penalty-riddled ref show where the Chiefs moved the ball 45 yards on 15 plays and the clock ran out after Robert Saleh was flagged for unsportsmanlike conduct. It was probably a defensive holding call on Sauce Gardner that set Saleh off, but it also could have been this missed holding call on a third-and-23 where Mahomes ran for a first down and the Jets were called for illegal contact.
That's Donovan Smith holding Jermaine Johnson for, well, quite a while. With no call the Chiefs took the Mahomes run, plus five yards and went on to run out the clock.
Including Saleh's unsportsmanlike penalty, officials threw five flags on the final Chiefs drive, which nearly accounts for half the penalties called in the game. As people will rightly argue, there's holding on just about every play in the NFL and the Chiefs were called for holding twice on the final drive.