Celtics-Raptors Series Will Be a Tale of Two Different Bench Mobs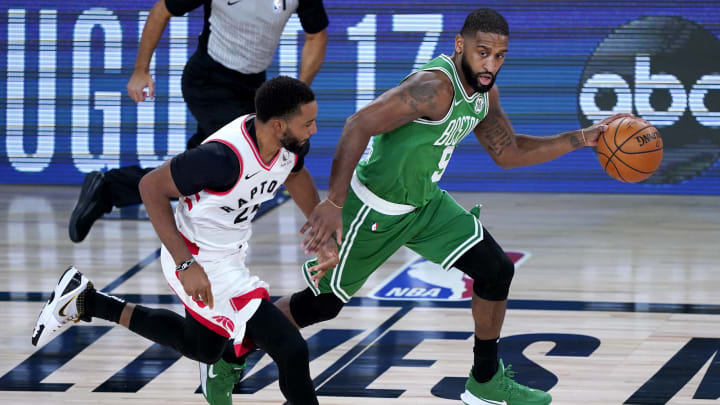 Norman Powell and Brad Wanamaker / Pool/Getty Images
The Boston Celtics and the Toronto Raptors became the first teams to punch their ticket to the second round of the NBA playoffs on Sunday. They did so in very different manners. The Celtics, propelled by Kemba Walker's 32 point-outing and 28 points from Jayson Tatum, completed their sweep of the Philadelphia 76ers without much trouble. The Raptors put up 150 points in regulation to finish off the Brooklyn Nets in four games. One hundred of those points came from the bench, a truly remarkable achievement. Those two differences are a microcosm of how the Celtics-Raptors second-round series will play out when it begins on Thursday.
Without Gordon Hayward, the two starting lineups are fairly equally matched. Walker and Marcus Smart are an even matchup for Kyle Lowry and Fred VanVleet. Tatum and Jaylen Brown will be battling against two players of similar skillsets in Pascal Siakam and O.G. Anunoby. Daniel Theis and Marc Gasol are tasked with the same role on both ends of the court. Tatum is a better pure scorer than anyone on Toronto's roster, but the Raptors are a better defensive team and don't have a single weak spot in their rotation in that regard.
Much of the series will come down to who can outperform who when the bench guys are in with some starters, which is why Toronto's absurd production stood out on Sunday. They had four bench players score double-digit points, including 27 from Serge Ibaka and 29 from Norman Powell. Unlike the regular season, neither Nick Nurse nor Brad Stevens will turn to a reserves-only lineup unless the circumstances are extremely dire, but bench production is going to be a big factor, especially if Lowry is hindered from the ankle sprain he suffered on Sunday.
To say the Raptors outclass the Celtics in this department would be an understatement. Powell averaged 16 points off the bench this season and has bumped his play a tick in the playoffs, averaging 17.5 points per game in the first round of the bubble postseason. Ibaka averaged 15 points and eight rebounds this year, coming off the bench in half of his games this season, and has kept up that level of production in the playoffs. That's 30-40 points a night from Toronto's two best reserves, and that's before you get into Terence Davis (14 points in Game 4 against the Nets), Rondae Hollis-Jefferson, or Stanley Johnson. Those three guys aren't needle-movers on their own, but a luxury for a team with a great starting five like Toronto.
The Celtics, um, do not have any of those qualities when it comes to their bench. The first two players usually subbed in, Enes Kanter and Brad Wanamaker, combined to average exactly 10 points per game off the bench in the first-round series against Philadelphia. In their decisive Game 4 victory, the six Boston reserves combined for 11 points. The best numbers Boston's bench put up was in Game 2, where the backups scored 41 points in a game so far out of hand Tacko Fall was given playing time.
Toronto's backups are a group filled with versatile defenders who can be exchanged interchangeably with various members of the starting lineup without losing much on either end of the floor. The Celtics, on the other hand, have a handful of guys who can do one or two things well but aren't well-rounded enough to boost one end of the floor while giving it all back on the other.
Kanter is an excellent offensive rebounder and can get his on the low block, but make him defend a pick-and-roll and disaster looms. Grant Williams has proven to be a great defender for a rookie who unlocks all sorts of interesting switchable lineups for Boston, but his shooting from deep was putrid during the regular season and he can't be relied upon to space the floor. Wanamaker is the closest thing they have to a steady hand on both ends, and even he is prone to hijacking possessions to run isolation on offense that probably makes Stevens want to tear his hair out.
None of this is news. Boston is heavily reliant on their quartet of stars, now set back to merely a trio against Toronto while Hayward recovers from his own ankle sprain. Bench minutes have been a problem all season. Toronto's depth and versatility are what allowed it to seize the second seed in the Eastern Conference a year after losing Kawhi Leonard. But when the postseason begins, a razor-thin margin separates the best teams from a victory and a loss. Each team's respective ability to not only keep the ship afloat but thrive when not all of their five best players are on the floor will be the deciding factor in this particular series.
The Celtics are clearly outmatched in this particular area. The question, as it always has been, is if their stars can shoulder enough of the load so that it doesn't matter. Toronto, on the other hand, has the opposite issue: even with its bench production, can it get enough done offensively with its best guys to earn a win?
It was the best of times, it was the worst of times. It was the second round of the NBA playoffs, a tale of two bench units. Names like Tatum and Lowry will rule the narrative, but as is the case at the highest levels of professional sports, it all comes down to the little things. The battle between benches will be one of those deciding factors in what should be a very close series.