The Celtics Showed an Intriguing Version of the Lineup of Death Against the Sixers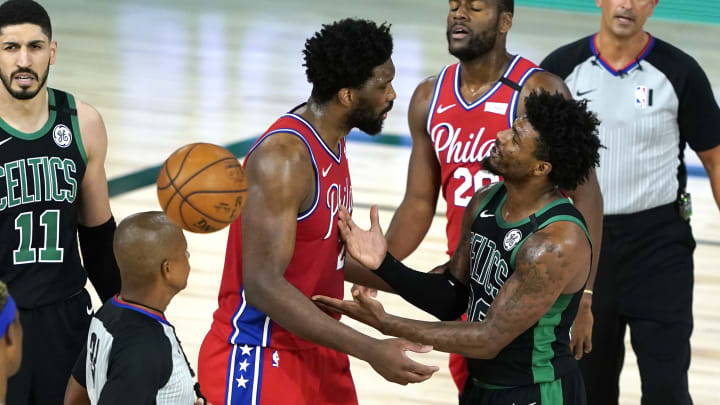 Celtics Sixesr / Pool/Getty Images
In the middle part of the last decade, the Golden State Warriors ran teams into the ground by a comical margin with one particular lineup that would come to be known as 'The Lineup of Death.' This lineup featured Stephen Curry, Klay Thompson, Kevin Durant, Andre Iguodala, and Draymond Green. The idea was to forgo a traditional center in favor of getting the best players possible on the floor, size mismatches be damned. It worked for the Warriors because size doesn't matter to Green, a Defensive Player of the Year Award winner, and the players surrounding him were so good that giving up a layup or a rebound here and there didn't move the needle.
The Warriors did not invent the concept of small-ball with this lineup, but they showed it was possible to play extended minutes without anyone taller than 6-foot-10 on the floor (Durant's undetermined exact height aside) as long as there was enough shooting. Not only was it possible, but a team could be dominant if they executed the strategy correctly. Of course, not every team has three Hall of Fame-level shooters and multiple All-NBA defenders to build the lineup out of. So in the years the Warriors ran over everyone in their way, teams around the league have been looking for their own iteration of the Lineup of Death.
Coming into the 2019-20 season, there was some optimism within Boston Celtics fan circles that the team might have a version that would be a viable lineup combination. The Celtics' five best players -- Jayson Tatum, Jaylen Brown, Kemba Walker, Gordon Hayward, and Marcus Smart -- theoretically don't fit together. But Smart is a defensive talent nearly to the level of Green's and has shown on numerous occasions he can guard centers if need be. He's also turned into a better shooter than Green, despite what his reputation suggests. The thought process was simple: if Boston wanted to get their five best players on the floor together, just throw Smart onto whatever big man is out there, run pick-and-roll, and profit.
During the regular season, the problem was that those five players were very rarely healthy at the same time. If it wasn't Smart going to the hospital with an eye infection, it was Brown struggling with a hamstring injury or Hayward breaking his hand or Walker's knee acting up. The four-month layoff following the postponement of the season gave everyone a chance to get healthy, and expectations were that Brad Stevens would finally break out the Boston-ized version of the Lineup of Death.
Well, he did, and it didn't go well. At all. Stevens tried it on for size against the Miami Heat and Bam Adebayo (a very good player but far from a dominant offensive force) absolutely torched Boston. Smart is a top-five defender in the league across all positions, but there's only so much a 6-foot-3 guard can do against a 6-foot-11 center in the low post. In certain situations, the lineup could work, but it was not the catch-all a la Golden State that was hoped for.
However, during the Celtics' Game 1 matchup against the Philadelphia 76ers, Stevens trotted out a different version of that lineup that could be more viable and much more dangerous than the aforementioned combination. With 7:56 left in the fourth quarter, Grant Williams was subbed in for Enes Kanter. That left a lineup of Tatum/Brown/Hayward/Smart/Williams on the floor. Boston was up two at the time. When Williams checked out with 5:46 left in the game, Boston was up five.
Obviously that doesn't scream "world-beater" like Golden State's lineup. But this combination has the potential to be Boston's iteration of that lineup. The Celtics played 22 regular-season minutes with those five players on the floor, and the statistics are ridiculous: an offensive rating of 109 and a defensive rating of 60, good for a net rating of 49. For context, the Milwaukee Bucks' most-played lineup (Giannis Antetokounmpo, Brook Lopez, Eric Bledsoe, Khris Middleton, and Wes Matthews) has an offensive rating of 109 and a defensive rating of 90.
No, I am not saying that Celtics' lineup is better than Milwaukee's, and yes, 22 minutes is a ridiculously small sample size. But it's easy to get excited about the potential of the combination when looking at the stats and skills of players on the court. Williams isn't a very good three-point shooter at all, but he can switch onto guards better than most rookies at his position. He did so several times on Monday night, staying in front of Alec Burks on a switch on consecutive possessions in the fourth quarter.
It may be a while until Boston puts out that lineup again after Hayward injured his right ankle near the end of last night's contest. But it theoretically has all the pieces to be the dangerous small-ball combination that every team is searching for: switchability across all positions, enough shooting to make up for the lack of a typical rim protector, and ball-handlers who can punish opposing big men in the pick-and-roll. It won't really come in handy against Philadelphia, where Boston's biggest weakness is their lack of size. But it's worth keeping an eye on.