Sal Paolantonio Has Surprising Take on Carson Wentz Vs. Jalen Hurts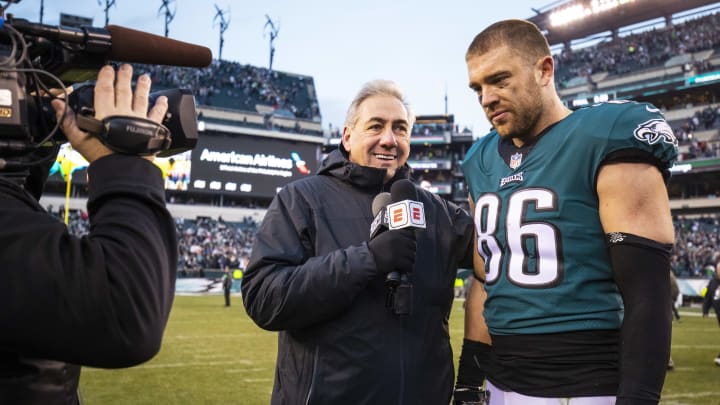 Sal Paolantonio interviewing Zach Ertz. / Brett Carlsen/Getty Images
Perhaps no NFL reporter embodies Philadelphia more right now than Sal Paolantonio. He's been ESPN's primary Eagles reporter since Randall Cunningham was their starting quarterback and has endured all the highs and lows along with fans for over 25 years. The point is, when he talks Eagles, smart people listen.
Which brings us to the current Eagles situation. Starting quarterback Carson Wentz has been terrible this year, leading the league in interceptions and sacks and ranking second in fumbles. Many people think Jalen Hurts should start over him. Paolantonio agrees, but for a different reason than anyone else I've heard.
That's a thinking man's take right there.
While it's true Wentz has been terrible this year, he's also faced more pressure than any other quarterback in the NFL because of the Eagles' porous offensive line. They lost two starters to season-ending injuries in the preseason (Andre Dillard, Brandon Brooks) and lost another (Lane Johnson) last week. So far this season, they've started 10 different offensive line groupings together in 11 games with three of those starters (Jordan Mailata, Nate Herbig, and Brett Toth) having never played an NFL game before. That's not what you want at any time and certainly not what you want when a quarterback is struggling.
Couple the Eagles' swiss cheese offensive line with the fact that Wentz is due to count $59 million against the cap next year (thus making him untradeable and uncuttable) and you have a situation where the Eagles need to protect him and hope he turns it around next year. Enter Jalen Hurts, who is more mobile than Wentz and doesn't count for nearly a third of the total cap the Eagles have in 2021.
We've heard many pundits say it's time to bench Wentz because he's too turnover prone, the Eagles should see what they have in Jalen Hurts, and Wentz is costing the Eagles chances to win. But Paolantonio brings up another reason: Wentz is too valuable to the Eagles to keep putting him in dangerous situations behind that offensive line. Paolantonio believes the Eagles should sit Wentz for a few games and then get him back in there after he hits the "reset" button.
Leave it to a true Eagles insider to provide some context about the biggest question facing the team this year.