Bryce Harper Must Be Pissed He Signed With the Phillies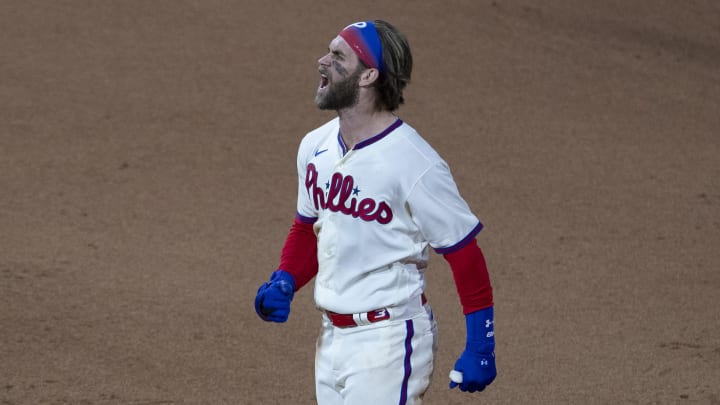 Bryce Harper yelling. / Mitchell Leff/Getty Images
Bryce Harper made a smart financial decision when he signed the biggest contract he was offered as a free agent two offseasons ago. Everything else baseball-wise has sucked for Harper since signing that 13-year, $330 million contract in 2019, but at least he's got the money to soothe his ego because things look like they'll get worse for Bryce before they get better.
Last week, a story emerged that the Phillies wouldn't be able to re-sign star free agent catcher J.T. Realmuto because of the monetary losses the team suffered during this past pandemic-impacted season. The Phillies traded for Realmuto before signing Harper as part of their effort to build a championship-contending team. But with their reported financial shortfall preventing them from signing top free agents this offseason coupled with their lackluster play since signing Harper, they seem farther away from hoisting the Commissioner's Trophy than before their free-agency spending spree.
Meanwhile, Harper's former team not only won the World Series the year after they left, but now they're reportedly interested in trading for Harper's best friend Kris Bryant this offseason. Harper and Bryant, who both hail from Las Vegas and vacation together with their families during the off-season, have openly talked about wanting to play together. How crushing would it be for Harper to see his bestie get traded to Nationals, the very team he left?
Meanwhile, the Phillies are coming off back-to-back sub.-500 seasons where they contended for a playoff spot, but never made the postseason. Harper hasn't been the problem. In fact, he's been basically the same player he was at his best with the Nationals. He set a career-high for RBI in his first year in Philly, has hit 45 home runs in 215 games with the team and his slash lines have remained consistent. Yet he hasn't made an All-Star appearance with the Phillies and isn't elevating their franchise back to contention.
When Harper signed with the Phillies, there were reports they might sign Manny Machado too. There have also been several rumors that the Phillies were interested in trading for Bryant over the last two years. In fact, Philadelphia has been one of the hottest free agent markets the last two years, having committed over $500 million to Harper, pitcher Zach Wheeler, and outfielder Andrew McCutchen. The latter two signings have failed so far and Harper has been left leading a team with enough talent to contend for a playoff spot, but not much more.
Harper hasn't expressed any dissatisfaction in his decision to sign with the Phillies and at the time expressed optimism about the franchise's direction. Since then, nothing has panned out as expected and now it appears they're on a downward spending trajectory in a division on an upward swing that could feature his best friend soon enough (the Mets are also expected to be suitors for Bryant). That can't feel good for a guy who wants to be known as the best player in the MLB competing for a championship every year. But at least he's got that sweet, sweet money to fall back on.