Did the Referees Screw the Browns Out of a Challenge By Refusing to Give Them an Obvious First Down Measurement?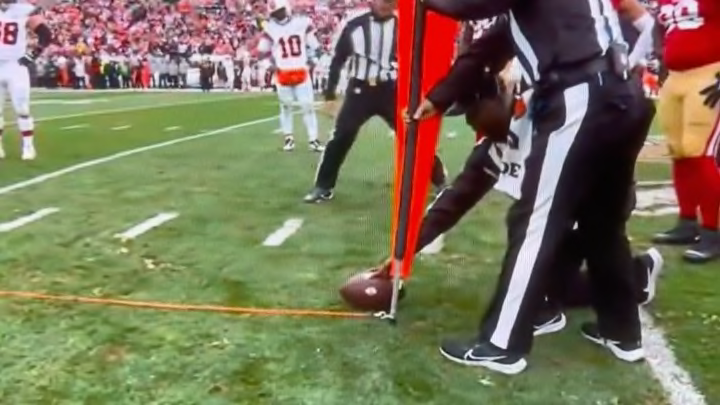 The Cleveland Browns hosted the San Francisco 49ers in Week 6. After some pregame fireworks, the 49ers scored on their first drive and and the Browns had a touchdown called back so it was just 7-0 San Francisco when the PJ Walker tried to sneak a first down on 3rd and 1 near midfield late in the first quarter. Walker appeared to get it, but the officials spotted the ball a little short. Then things got really interesting when they measured to see if he got the first down and the tip of the ball appeared to be even with the first down marker.
Cleveland fans were furious and Kevin Stefanski had to challenge the spot. After a review the ball was re-spotted and the Browns got the first down, but that doesn't clear up why they didn't get the first down originally as Kevin Burkhardt and Greg Olsen seemed confused on the broadcast.
Times like this you have to wonder what happened to Gene Steratore and his index card. Oh, yeah, he was on the CBS broadcast trying to come up with an explaination why the Browns didn't get the first down when it sure looked like they had got the first down on that measurement.