49ers, Browns Get Into Fight During Pregame Warmups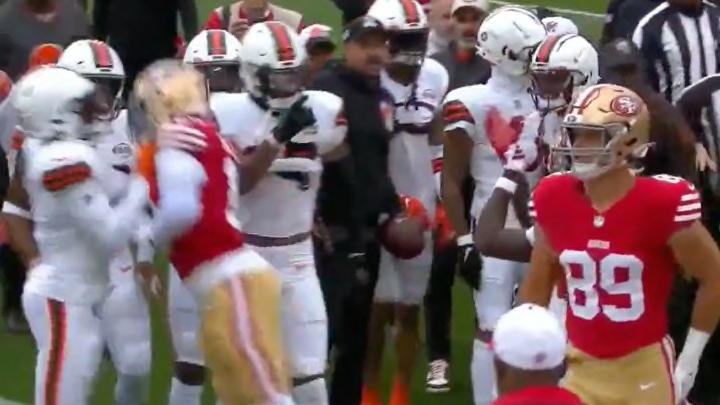 49ers-Browns /
The San Francisco 49ers are in Cleveland today, slated to take on a Browns team that will be without Deshaun Watson yet again. It didn't take long for the fireworks to start as beat reporters for both sides in attendance captured video of a pregame fight between the two sides.
As you can see from the second video it seems that the Browns exchanged some words with the 49ers before Deebo Samuel swooped in to start shoving. As what looked like the entire Cleveland roster beared down on Samuel, Trent Williams came flying in from the left to protect the star wide receiver and then everyone startes shoving.
A better sideline view suggests that is, indeed, how it went down, but Brandon Aiyuk appeared to play a large role in sparking off the conflict.
Afterwards the Niners huddled up and got jacked up.
Never a dull moment on an NFL Sunday, that's for sure. A full half over before kickoff and the entertainment is already starting.