Brian Daboll Freaks Out on Evan Neal After Costly Penalty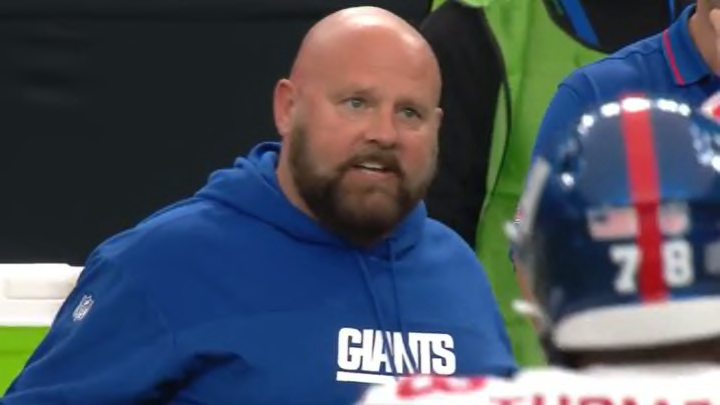 New York Giants head coach Brian Daboll is becoming famous for his sideline tirades. We got another one on Sunday as his team took on the Las Vegas Raiders. This time, tackle Evan Neal faced Daboll's wrath.
The coach's anger stemmed from a fourth-and-1 play on the opening drive of the game. The Giants decided to go for it from their own 29-yard line and Neal jumped too soon. The false start penalty backed the Giants up and they were forced to punt the ball. Daboll was not happy about it.
Here's the scene as Neal walked off the field:
Don't think you need to be a professional lip reader to pick up what Daboll was saying there.
The Raiders took the punt and worked down the field, scoring a touchdown to take an early 7-0 lead.
Neal has struggled since the Giants selected him with the seventh pick in the 2022 NFL Draft. As a rookie last year, Pro Football Focus gave him a grade of 44.1, and this year he's dropped to 39.1. A grade in the 60s is considered average, so you can see how well things are going.