Bills Screwed By Missed Tripping Call on Jets' Game-Winning Punt Return
This was pretty blatant.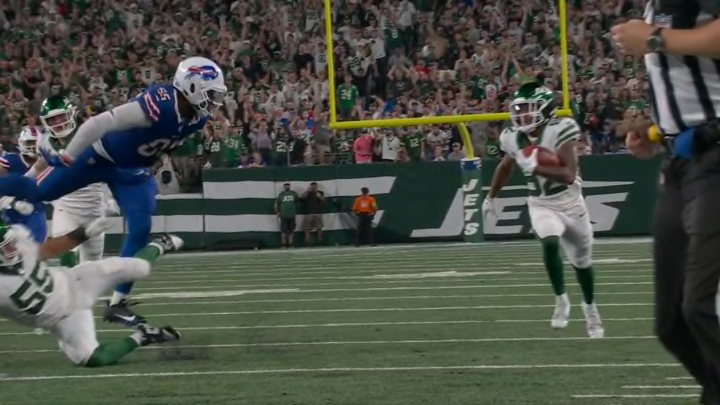 The New York Jets beat the Buffalo Bills 22-16 in a dramatic overtime game to end Week 1 of the 2023 NFL season. The victory came via a 65-yard punt return touchdown by Xavier Gipson with 9:02 left in the extra frame. But controversy will surround that finish, because officials missed a blatant trip on the play that helped spring Gipson free for the touchdown.
Here's video of the full play:
And here's a look at Chazz Surratt blocking for Gipson, watch his leg.
You can see as Surratt misses his block on Buffalo's Quintin Morris, he whips his left leg up to trip him. It's pretty clear. Bills fans will not be happy. It'll be interesting to see if the NFL has anything to say about the missed call.
Monday night's showdown was a really entertaining game and a lot happened. Josh Allen struggled all night, Aaron Rodgers suffered a potentially serious injury, and Zach Wilson led New York to a win. Crazy all the way around.