Christian Wilkins Ambushed By Numerous Bills Players After Shoving Josh Allen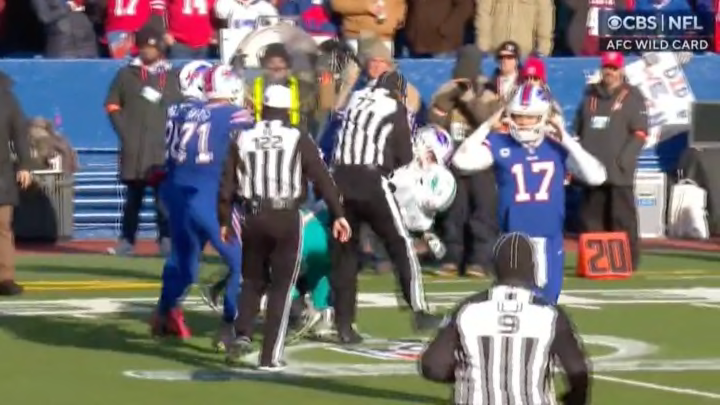 Bills-Dolphins fight /
Josh Allen and Christian Wilkins really do not like each other. There are multiple documented incidents between the two players that indicate as much. So it isn't a surprise that they got into it on Sunday during their Wild Card matchup.
With the Buffalo Bills up 17-3, Allen threw a long ball that the Miami Dolphins intercepted. Wilkins took this opportunity to enthusiastically block Allen. The quarterback did not back down and got into a shoving match with the defensive lineman. This resulted in multiple Bills players sprinting towards Wilkins in an effort to defend their quarterback. Eventually so many of Allen's teammates showed up that Wilkins ended up on the ground. The whole kerfuffle led to several offsetting personal foul penalties.
It felt like only a matter of time before something like this happened. Matters might get worse if the game turns into a true blowout but Allen's interception tendency could prevent that from happening.