Howard Eskin: Ben Simmons is Broke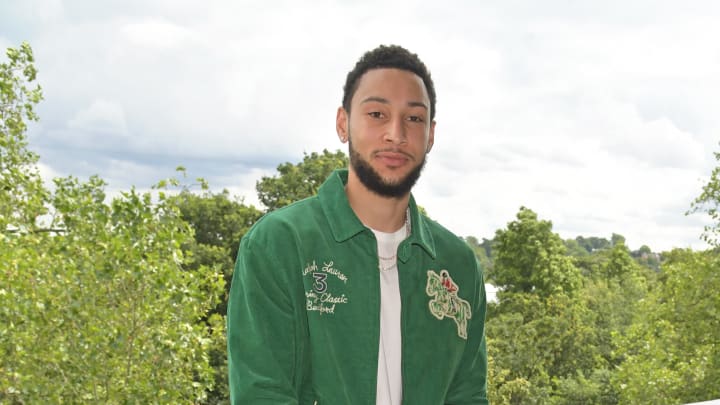 Polo Ralph Lauren & British Vogue at Wimbledon 2021 / David M. Benett/GettyImages
The Philadelphia 76ers are 10-8 this season. Joel Embiid has played nine games. Tobias Harris has played 11 games. And Ben Simmons not played any. The Sixers tried to trade Simmons and Simmons the demanded to be dealt. Then Simmons showed up for training camp, but that didn't work out either. Simmons then said he was having mental health issues. Last we heard, Simmons and the Sixers were having trouble agreeing on the best course of treatment.
The point is, he's still not playing basketball for the Sixers or anyone else and there's really been nothing new to even discuss. At least until last night when Howard Eskin went on the radio and said that Simmons is now broke. Via 97.5 The Game:
"I was told by somebody very reliable he may be tapped out, broke," Eskin said on Tuesday's 94WIP Evening Show with Joe Giglio. "Cash flow broke. Because he's losing so much money, but he spent so much money. 17.5 million dollar home, remember he has to pay taxes too. 17.5 million dollar home. He's got two homes in the Philadelphia area, probably worth eight or nine million. He buys a new car every month, four or five hundred thousand. He just spends money like it's nothing because he thinks it never ends. And the person that told me, it's very reliable that he has got serious cash flow issues."
Well, the cash flow issues part seems pretty obviously considering he's very publicly not going to work right now. Are we supposed to assume that if Simmons returns, it will be out of financial necessity? What's the motivation behind sharing this juicy nugget with a media member?
Simmons is already looking to sell a home in New Jersey worth $5 million. He has made over $50 million in his career and still has three full years and $110 million remaining on his current deal after this season. It's pretty clear that Simmons issues are not only financial.