Latest NFL Leads
Four Potential Replacements For Ben Roethlisberger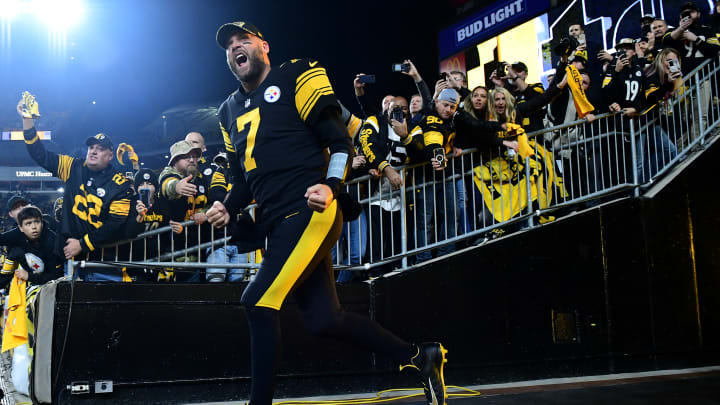 Ben Roethilsberger / Emilee Chinn/GettyImages
Ben Roethlisberger will ride off into the sunset after this season. Adam Schefter reports the longtime Pittsburgh Steelers QB will very likely retire after the last stretch of games ahead of him.
Anyone who has watched Big Ben this year should be unsurprised by this news. Roethlisberger looks every bit the part of a 38-year-old signal-caller with an injury history. He is below-average at this point in his career and actively hurts his team's chances of winning on his worst days. The time has come.
Now the Steelers get to deal with the aftermath. They have no clear succession plan in place for Roethlisberger. The only investments they've made into the QB position over the last few years were drafting Mason Rudolph and taking flier on Dwayne Haskins, who has been inactive for all of 2021. The draft is severely lacking in elite quarterback prospects this year. There is no obvious path forward for this team.
We'll give a shot at projecting what they'll do anyway. Here are the four options Pittsburgh has to replace Roethlisberger.
Aaron Rodgers
Things are going pretty well in Green Bay this year (Rodgers' vaccination status aside), so there's no guarantee the quarterback will hit the trade market next offseason. But after his dispute with the organization last offseason, anything can happen, and Pittsburgh makes sense as a team to give up a king's ransom for Rodgers. They don't really have assets other than their own draft picks and some good, young defensive talent, but they will probably be the most desperate team in any Rodgers sweepstakes. The defense is ready to win and Mike Tomlin isn't interested in presiding over rebuilding seasons. The Steelers as a franchise probably have too much pride for that. Rodgers would immediately launch them back into legitimate contender status, and the roster is strong enough that he would be interested in teaming up. If Rodgers wants out, the Steelers will be in the running.
Russell Wilson
The other star QB who got into a bit of a spat with his team, Wilson may end up leaving Seattle if their season continues on its current track. For the same reasons mentioned above, Pittsburgh will aggressively pursue him if he hits the trade block. Wilson is arguably a better option than Rodgers due to the five-year age difference between the two. Rodgers is a better player but Wilson offers a longer tenure and more stability if things go well. But both are dream situations for Pittsburgh.
Mason Rudolph/Dwayne Haskins
In what feels like the most likely situation, Pittsburgh can always bank on their internal development and trot out one of the two options they have currently sitting behind Roethilsberger next year. Haskins has more raw talent than Rudolph but was terrible when he started for Washington last year, throwing seven interceptions to match seven touchdowns while completing only 58 percent of his passes across seven games. He went 2-5 before getting benched and ending up in Pittsburgh. Rudolph has filled in for Roethlisberger a few times over the last two years but hasn't shown much; he started eight games in 2019 and completed 62 percent of his passes while throwing 13 touchdowns and nine picks, leading the Steelers to a 5-3 record in those games. Rudolph will probably get the nod unless Haskins has made massive strides behind the scenes. If the Steelers won't or can't make a big splash, these are their two options.
Take a Quarterback in the 2022 NFL Draft
As mentioned above, this is not a strong draft class for signal-callers. Pittsburgh, however, does own all their high picks and look like they'll end up selecting in the late teens/early 20s range with potential to be higher if they completely fall off in the last six games. Guys like Matt Corral out of Ole Miss or local prospect Kenny Pickett will definitely be there in the middle of the first round. But make no mistake: this class pales in comparison to the 2021 crop. The Steelers aren't finding their version of Mac Jones. But Tomlin is one of the NFL's best coaches, they have solid players at all the skill positions, and the defense was one of the league's best last year. Picking a project in the first round and hoping a strong supporting cast can cover for their flaws is not the worst idea, and is the least costly while bringing the chance of finding their next Big Ben.