Latest Cleveland Browns Leads
The Browns Took a 28-0 Lead as Ben Roethlisberger and the Steelers Had a Nightmare First Quarter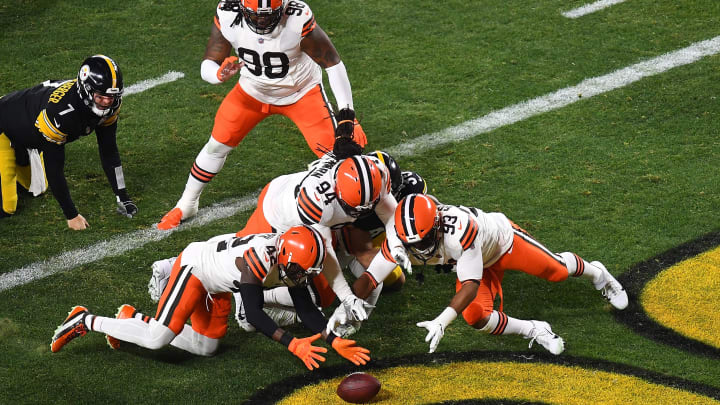 Ben Roethlisberger watches the Browns score. / Joe Sargent/Getty Images
Ben Roethlisberger and the Pittsburgh Steelers had a nightmare first quarter in their Wild Card round game against the Cleveland Browns. Roethlisberger threw two interceptions and Cleveland recovered another fumble for a touchdown on their way to a 28-0 lead. It's safe to say this version of the Browns is not "just the Browns."
On the first play from scrimmage the snap went over Roethlisberger's head. James Conner ran after the loose ball while Big Ben... ambled towards it. When they got there Conner dove for the ball while Roethlisberger made what could most politely referred to as a business decision.
On the Steelers next posession, Roethlisberger was picked off by M.J. Stewart Jr.
That was followed by a punt. The Browns scored both times and jumped out to a 21-0 lead. And then he threw a ball that bounced off a receiver's hands and was intercepted by Sheldrick Redwine.
And then the Browns scored again. 28-0. The Browns have as many appearances on the Showtime Camera as Roethlisberger had completions in the first quarter (4).
28-0 after one quarter. The Cleveland Browns took a four touchdown lead over the Pittsburgh Steelers in a single quarter. Now is a good time to remember that Big Ben has already announced he will return to Pittsburgh next year and they have no plan of succession.
Update: The Steelers then punted one of the most cowardly and questionable punts possible from Browns' territory early in the second quarter.
Woof.