Justin Fields Got Punched in the Face by Chiefs LB Willie Gay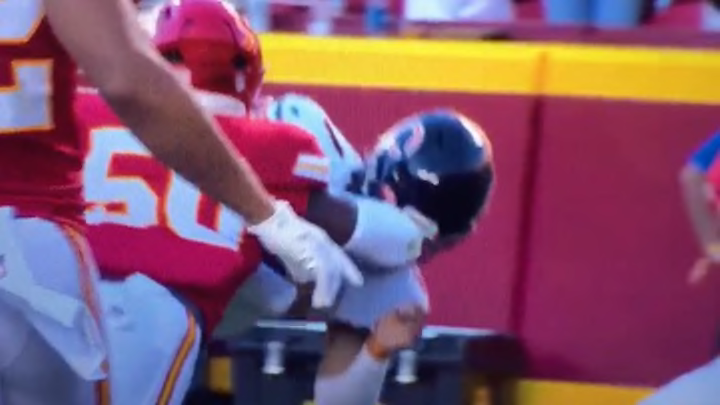 Justin Fields /
The Chicago Bears were getting absolutely shellacked by the Kansas City Chiefs in front of Taylor Swift on Sunday afternoon, and things somehow got worse. Down 41-0, the Bears were trying to salvage whatever dignity they had remaining and were in the red zone. Justin Fields scrambled on second down trying to make something happen and got hit so hard he had to leave the game.
It was a bit weird at first because it looked like a normal tackle. How did he manage to get hit so hard on a scramble without an obvious late or high hit? Well, replay showed Chiefs linebacker Willie Gay went to punch the ball out while tackling Fields but punched the QB in the face instead.
Yep, that'll definitely do it. A full speed fist to the facemask will hurt. For both parties.
Fields was clearly shaken up but wanted to return to the huddle. DJ Moore had other plans and insisted his teammate go to the sideline.
Man. Hopefully whatever ails Fields isn't serious and they can escape this game with everyone's health intact.
What an awful week for the Bears.