Refs Miss Obvious Hit to Justin Fields' Head on Third-And-Goal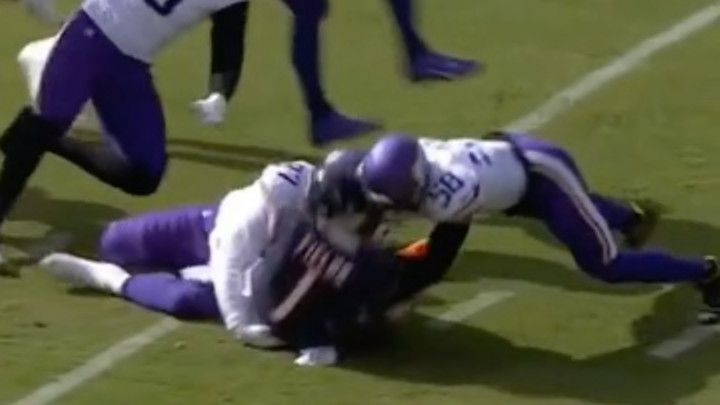 Justin Fields /
On Sunday the Chicago Bears hosted the Minnesota Vikings as both NFC North squads attempt to get back on track after a brutal start to the season. The early goings suggested the game would, in fact, be as ugly as a matchup between two 1-4 teams should be. In other words, the offenses were bad but the defenses were worse so field goals were put on the board early.
The Vikings struck first with a 53-yard field goal on their first drive of the game. The Bears put a few good plays together in an attempt to return the favor and found themselves facing a third-and-goal fron the four-yard line. Justin Fields dropped back to pass and, per usual, went to run after not finding anybody. As Fields darted up the middle he got wrapped up by Minnesota-- and then linebacker Jordan Hicks came flying in to drill Fields right in the head.
But the refs missed it, so there was no flag. The Bears were not granted the first down they were owed and had to kick a field goal.
That is pretty bad. You can understand how an official might've missed it. The hit happened as Fields was about to hit the ground and since he started to run the refs could argue that he's not protected as a quarterback but instead is protected as a runner, which doesn't always mean a flag in this circumstance.
Even with all that, though, it's a bad missed call. Any QB who gets nailed in the dome like that as they're getting sacked deserves that flag. Even if this was a running back the officials might still throw the flag because it was so blatant. Yet Fields went unprotected.
A tough missed opportunity for Chicago.