Bears OL Braxton Jones Drops F-Bomb on Hot Mic After Being Forced to Leave Field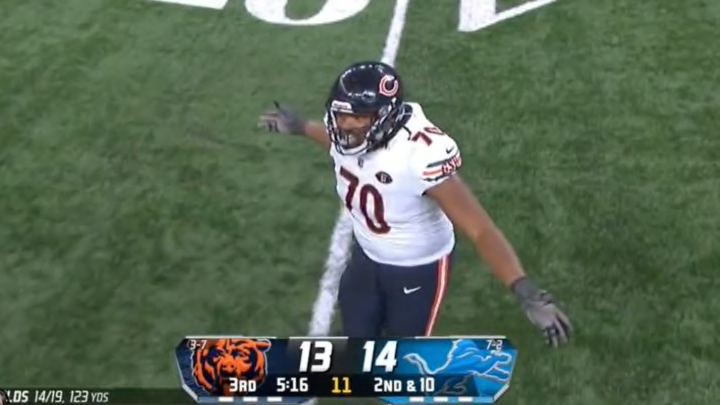 Braxton Jones /
The Chicago Bears were giving the division-leading Detroit Lions everything they could handle on Sunday when something rather weird happened. During a third quarter drive, Bears offensive lineman Braxton Jones was taken out of the huddle and sent to the sideline by a referee. Jones was extremely frustrated and took his time walking off while turning around to yell at the refs. The hot mic picked up what he was yelling and the f-bomb that accompanied it.
"I can't f----ing see!"
Once Jones got to the bench he fully let loose and slammed his helmet down, obviously aggravated by whatever just happened.
Our best guess is that Jones looked unsteady getting up after the previous play and the officials forced him off to do a concussion check. Jones was protesting that he "couldn't see," which is usually a sign that somebody does in fact have a concussion but wouldn't be the defense of a player who was trying to avoid a concussion check. Instead, it goes to reason that Jones got something in his eye and stumbled as a result of that, not a concussion. That would also explain why the left tackle got so upset about it all.
If Justin Fields got nailed by a blindside hit on the next snap then Bears fans probably would've been up in arms about what happened. Instead, the quarterback hit DJ Moore for a deep touchdown throw while Jones got checked out in the blue medical tent. Then he was back out there for the next possession.
Pretty bizarre sequence of events but ultimately all was well for Chicago.