Oakland A's Attendance Is Abysmal, As It Should Be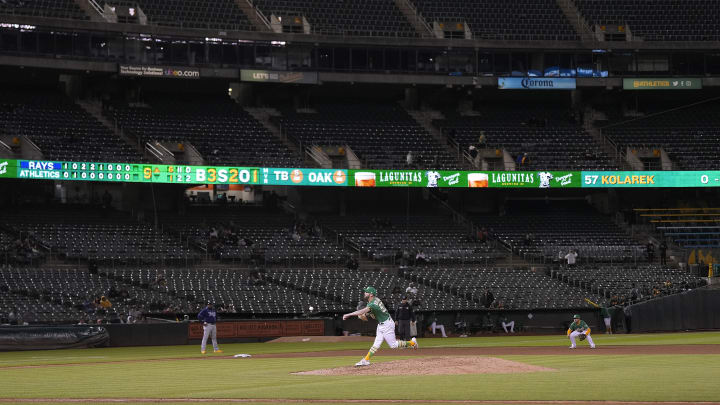 Tampa Bay Rays v Oakland Athletics / Thearon W. Henderson/GettyImages
The Oakland Athletics have been shockingly competent so far in 2022 despite a massive offseason teardown. Through 23 games, the A's are 10-13 and started 9-8 before losing five of their last six. Despite defying all expectations, Oakland has record-low attendance as fans refuse to show up. Given what's happening with the franchise, they're right to stay away.
On Monday night, the A's welcomed 2,488 fans to Oakland Coliseum. That's not a typo or a misplaced comma. The stadium holds 63,132, which means it was at 3.9 percent capacity for the team's 6-1 loss to the Tampa Bay Rays. Over 11 home dates this season, Oakland has seen 92,648 fans come through the turnstiles. That's an average of 8,422 per game, by far the worst in Major League Baseball. The Pittsburgh Pirates are the next lowest, averaging 12,256 per game.
There are two factors at work in the A's tanking attendance. First is the team's offseason fire sale. The front office traded Chris Bassitt, Matt Olson, Matt Chapman and Sean Manaea and that came after allowing several free agents to walk. The goal of removing those players from the roster was not only to tank and rebuild but to reduce payroll and rake in cash for ownership. Oakland's opening day payroll was a paltry $48,056,154. And this kind of tanking for profit is not only allowed by MLB, it's practically encouraged.
Bear in mind, the A's went 86-76 in 2021 and were firmly in the wild card chase. There was no need for a teardown, things were going fine. The first signal a shift in strategy might be coming was allowing longtime manager Bob Melvin to leave for the same position with the San Diego Padres. Oakland didn't even request compensation from the Friars for luring Melvin away.
The second reason fans aren't showing up is A's ownership's ongoing flirtation with moving the team to Las Vegas. Despite Oakland approving construction of a new ballpark exactly where the team wanted it, ownership continues to tease a move to Sin City.
So the team got rid of a number of beloved players and is threatening to move. Of course fans aren't showing up to support that. Why would they? Ownership has shown a complete disregard for its customers, there's no reason for them to continue supporting a product that doesn't seem to care about them.
I hope A's fans continue to stay away. Hell, I hope there's a game with fewer than 1,000 fans. Or none. Boycott and protest. Send that message not just to the A's but to every ownership group that wants to tank and toy with the emotions of the very people who subsidize their franchises.