Anti-Mask Movement Could Spell Big Trouble For the Bills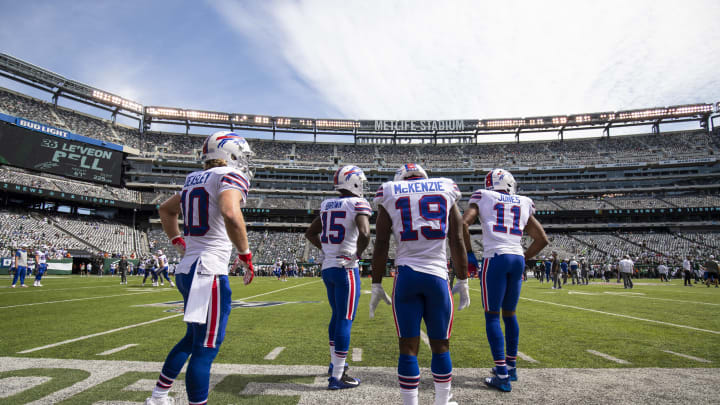 Cole Beasley and Isaiah McKenzie / Brett Carlsen/Getty Images
The Buffalo Bills have the displeasure of employing the most vocal anti-COVID vaccine player in the league right now. His name, as you probably well know by now, is Cole Beasley. Beasley did his best to get himself fired in publicly campaigning against the NFL's rules for vaccinated vs. unvaccinated players during the offseason. Then training camp started and the flow of anti-vax tweets slowed. For a little while.
Then Beasley was sidelined because of contact tracing. The man himself tested negative but had been in close contact with a fully-vaccinated trainer who tested positive. This, of course, led to more outcry from Beasley questioning the effectiveness of both the protocol and the vaccine if he avoided contracting COVID but still has to stay away from team facilities for a few days.
Today brought a fresh spate of news and further comment from the receiver. Fellow Buffalo wideout Isaiah McKenzie was fined nearly $15,000 for failing to wear his mask in the team facility because he is also unvaccinated. He sarcastically decried the letter he received notifying him about the fine. McKenzie had previously received a written warning about refusing to wear a mask.
Beasley couldn't help but chime in to poke perceived holes in the NFL's logic and embrace the victim game because of course Beasley was also fined for not wearing his mask.
Beasley later said he wore his mask all day but was fined for not wearing it between the front entrance and the locker room.
The fact that the Bills have one player on their roster who appears to be anti-mask and another who doesn't see the point in being diligent is a lot more concerning than the fact they have players who are anti-vaccine. Every NFL team has some players who don't want to get the vaccine for whatever reason. But all those guys keep it to themselves and adhere to the basic masking protocol (Kirk Cousins is willing to go even further than that) because we just went through a year of proof that masking up helps stop the spread of the deadliest virus in modern history. The arguments moved from the effectiveness of masks to how it's a "violation of personal rights" or whatever long ago. The vast majority of the country understands that masks work to some degree.
Except Cole Beasley and Isaiah McKenzie, apparently. Masks are the last line of defense between players who test positive (unvaccinated or no) and unmitigated disaster in the form of an outbreak. It's all too easy to envision a scenario in which someone catches COVID and spreads it unintentionally because they refuse to wear a mask. The Bills have Super Bowl aspirations this year. They can't afford to have important players sidelined because some members of the organization can't follow the basic rules set in place.
If they aren't going to get the vaccine, they have to mask up. It's that simple. Regardless of everyone's personal feelings on the matter, it's the only way to ensure a possible COVID breakout is limited. There is literally no other way to combat it. Other than everyone getting vaccinated, of course, but that doesn't seem likely. If the Bills have players who won't get on board with masks in preseason, they have bigger problems on the horizon.