Andrew Whitworth Tells TMZ Aaron Donald Will Not Retire This Offseason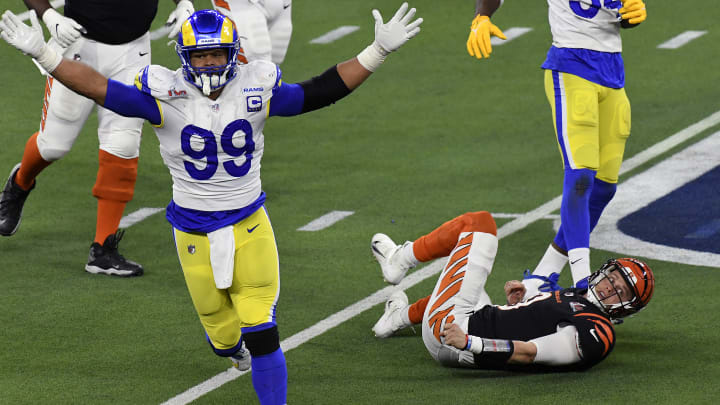 Aaroon Donald / Focus On Sport/GettyImages
Aaron Donald's thoughts of retirement were surprisingly brought to light ahead of Super Bowl LVI and have yet to be put to bed. The Los Angeles Rams superstar was non-committal about 2022 after winning his first championship and has kept silent since.
It feels crazy that he's even thinking about it. He's at the top of his game, widely considered to be one of the NFL's best players regardless of position, currently riding a streak of nine straight All-Pro nominations, and made the game-winning play in the biggest game of his life. It's obviously hard to imagine things getting better for Donald but it's real hard to go out on top like that when he obviously has a lot left in the tank. Just ask Tom Brady!
Andrew Whitworth, who retired this month after playing tackle at the ripe age of 40 in 2021, told TMZ Sports this week that he has "no doubt" Donald will not be hanging up the cleats. Per TMZ:
Breathe easy, Rams fans ... Aaron Donald isn't retiring, so says his former L.A. teammate Andrew Whitworth, who tells TMZ Sports A.D. ain't going anywhere but the gym this offseason.
The ex-Rams left tackle, who just walked away from the game this month, said out at Wally's in Beverly Hills this week that he is 100 percent sure Donald won't hang up the cleats this year.
"He'll be back on that field dominating again," Whitworth said, confidently.
Donald probably would have announced his retirement by now if he was planning on taking that route. The decision would clear some money off the Rams' books and allow them to search far and wide for replacements. But until he shows up for training camp, it's not a sure thing.
Unless you're asking Whitworth, who seems awfully confident Donald will be back to terrorize opposing quarterbacks in 2022. Great news for everybody except the Rams' opponents this season.