Alec Bohm Was Not Trolling Jose Altuve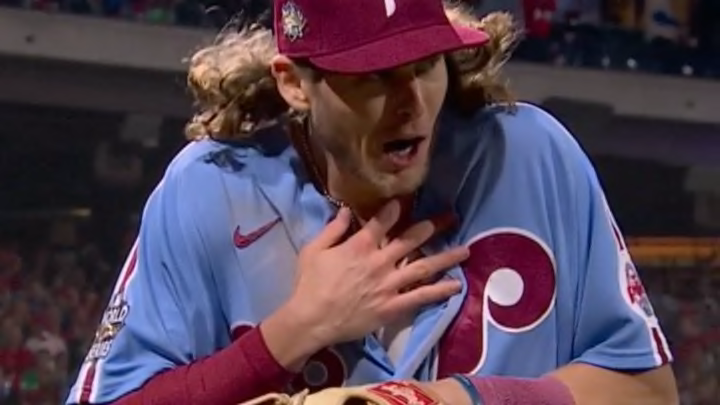 Philadelphia Phillies third baseman Alec Bohm made an impossibly difficult 5-3 double play look super easy to close out the top of the ninth last night. And the combination of Jose Altuve being the batter who put the ball in play and an odd reaction from Bohm as he entered the home dugout had more than a few people think he was trolling the Astros' star, but the evidence proves that this was not the case.
Fox's cameras caught Bohm clutching his jersey at the chest, much like Altuve did after blasting a walk-off in Game 6 of the 2019 ALCS against the New York Yankees. He famously implored his teammates not to tug his shirt off. This triggered allegations that he was wearing a buzzer, because of course it did amid Houston's cheating fog. Carlos Correa at the time explained Altuve simply did not want anyone to see an unfinished tattoo.
But wouldn't you know it, the abbreviated shot and screengrab are a bit misleading. What actually happened is someone threw a ball at Bohm for no reason and it hit him in the chest. (Perhaps the ball was meant for first baseman Rhys Hoskins who can be seen laughing in the background and then catching a second ball.) His clutching motion was simply a reaction to being surprised with by errant toss.
So, case closed. Baseball fans will have to look elsewhere for something to be mad about or blow out of proportion. I feel confident that they can do it.