AEW Ratings Need a CM Punk Boost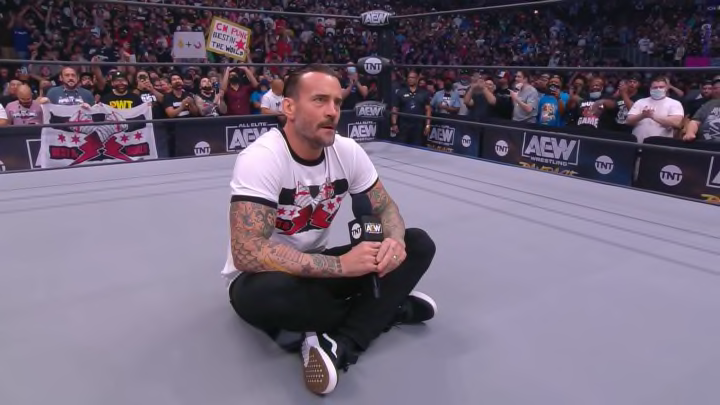 CM Punk is currently in no man's land in relation to the world of professional wrestling. AEW owner Tony Khan has ye to decide what to do about Punk's future status. With ratings of both Dynamite and Rampage in the toilet, it would seem the only logical thing to do would be to bring Punk back and bask in the heat such a decision would bring.
Things are bad from a ratings perspective for AEW. Where once its programming at least gave WWE competition, that's not the case now. Rampage -- the company's secondary show -- has seen its ratings in its key demo plummet by 45 percent since 2021. And through the end of 2022, the flagship show, Dynamite, has continued to drop. It's now averaging fewer than 1 million viewers per episode and steadily declining. Meanwhile, WWE Raw is usually between 1.5 and 2 million per episode. Given those numbers, it would seem the obvious move would be to bring back the most polarizing and recognizable face AEW currently has under contract.
For those unaware, CM Punk was AEW's biggest ever signing when he arrived with the company in August of 2021. For the next year, he set about helping the company grow while winning the AEW World title. Then in September, it all fell apart, following the company's All Out pay-per-view.
In the post-event media scrum, Punk lit up several of his fellow AEW wrestlers in vicious language. He clearly had active distain for the guys he went off on. Colt Cabana, The Young Bucks and "Hangman" Adam Page took the brunt of his verbal assault. That led to a very real brawl in the locker room a few minutes later, in which The Young Bucks and Kenny Omega got into it with Punk and Ace Steel. Pat Buck, Christopher Daniels, Michael Nakazawa and Brandon Cutler were all also somehow involved, though exact details are sketchy.
Khan suspended The Young Bucks, Omega and Punk indefinitely, while he fired Steel. Buck, Dnailes, Nakazawa and Cutler were all also suspended. The Young Bucks and Omega were back a few months later, while Punk remains out. He is not well-liked in the AEW locker room and many wrestlers have been public about wanting him released.
Despite those feelings, the smart move for AEW would be to bring Punk back and set him on a program against Omega and The Young Bucks. Take advantage of the real, genuine dislike between the men and put it on television. Everyone who has any interest in professional wrestling would watch. Make it the feature of the program. No one is better on the mic than Punk and watching him eviscerate those three on a weekly basis while building to some sort of big match would be incredible.
If Khan values workplace harmony over ratings, he will cut CM Punk loose. If he really cares about competing with WWE, he'll make the obvious move and bring him back.