CM Punk Blasts Colt Cabana, Young Bucks and 'Hangman' Adam Page After AEW All Out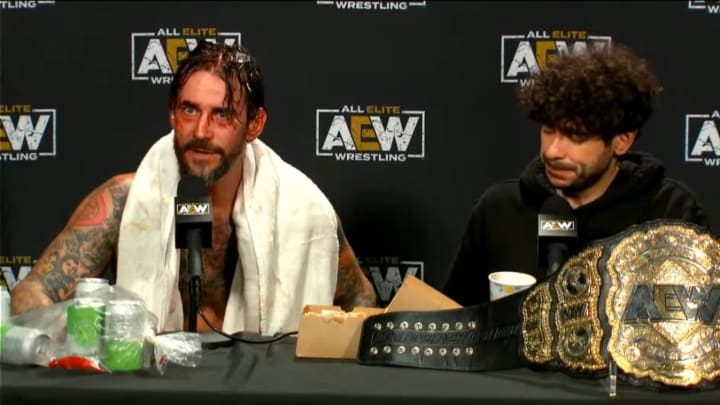 CM Punk won the AEW world title at the company's All Out pay-per-view Sunday night by defeating Jon Moxley in a 20-minute slugfest. But he made more headlines for what happened after the event went off the air. During the post-PPV media scrum, Punk ripped Colt Cabana, "Hangman" Adam Page and the Young Bucks. He didn't hold back.
His comments about Cabana (whose real name is Scott Colton) start around the 12:30 mark below and are quite lengthy. Check out what he had to say:
Let's dissect this a little bit. Colton and Punk used to be tight, but Punk clearly believes the friendship was one-sided. He cut Colton off and the relationship ended badly with dueling lawsuits..
In 2019, Colton began making appearances in AEW under his ring name (Colt Cabana). Punk officially joined AEW on August 20, 2021. Rumors spread that Punk tried to push Colton out, got him fired and was the reason he was with Ring of Honor instead of AEW. The Young Bucks reportedly spread those rumors backstage -- hence Punk referring to EVPs who should have "known better." AEW owner Tony Khan denies rumors that Punk was involved with Colton's situation.
Punk also took a shot at Adam Page for ripping him in a promo a few weeks ago. Page and the Young Bucks are tight. The implication is, Page was backing his buddies by taking aim at Punk.
When Punk says "we're way beyond apologies" he's referring to Page cutting a promo on him. Punk responded with his own promo that took a shot at Page. Punk seems to feel if the Young Bucks or Page had a problem with him, they should have just come to him personally.
It seems there's some real heat with Punk behind the scenes at AEW. While there's always a chance this is just professional wrestling schtick, Punk's comments about Colton were almost certainly real. The rest? It felt real, but it's hard to know what's real and what's fake for purposes of promotion.