Latest NFL Leads
Aaron Rodgers Talked About the 'Woke Mob' and 'Woke P.C. Culture' on 'The Pat McAfee Show'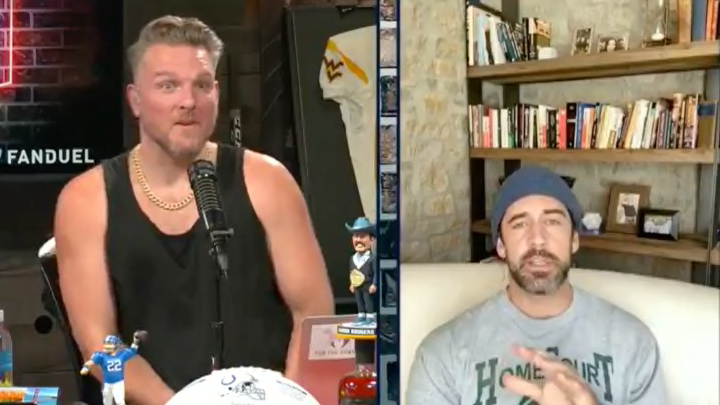 Pat McAfee and Aaron Rodgers /
Aaron Rodgers made his usual appearance on The Pat McAfee Show today. Of course they discussed his touchdown celebration after he iced the game against the Chicago Bears on Sunday where he was seen shouting "I own you" as Bears fans booed and gave him the middle finger. It was an incredible moment that most people seemed to enjoy, but apparently the reaction to it rubbed Rodgers the wrong way.
Here's the full clip, which McAfee & Co. pulled and posted for obvious reasons.
Just an incredible monologue by Rodgers, who apparently has not liked the media coverage he has received over the last few months. It's understandable he might not have thought the media was being very cool in how they presented him holding the Packers hostage for the entire summer. And Rodgers apparently blames "woke P.C. culture."
"There's a P.C. woke culture that exists and there's a cancel culture at the same time and it's based on people's own feelings of maybe person miserability or just distaste for their own situations in life or just there enjoyment of holding people down underneath their thumb."
If anyone knows who exactly was holding Aaron Rodgers down under a thumb as he traveled the world with celebrities and hosted Jeopardy!, please let us know. Now here's the real galaxy brain part of all this.
"There's a game within the game, right? And in this game there's a player and there's a game and if the player abides by rules of the game then he's a part of the game. Now the rules of the game are that you must acquiesce with the woke mob at all times. You must. However, when you live above the game, the game does not exist. And Pat, that's where I'm at. These things? I realize them, I see them, but I'm not a part of this game that's being played. This game is being played out by these individuals and I see it, I hear it, but to me it's comedy."
Was there ever a time that Rodgers didn't do whatever he wanted or where he was somehow in danger of being cancelled? Has he done anything that the "woke mob" was at any point interested in? Maybe he's just been watching a lot of Squid Game recently.