Would You Let Aaron Rodgers Officiate Your Wedding?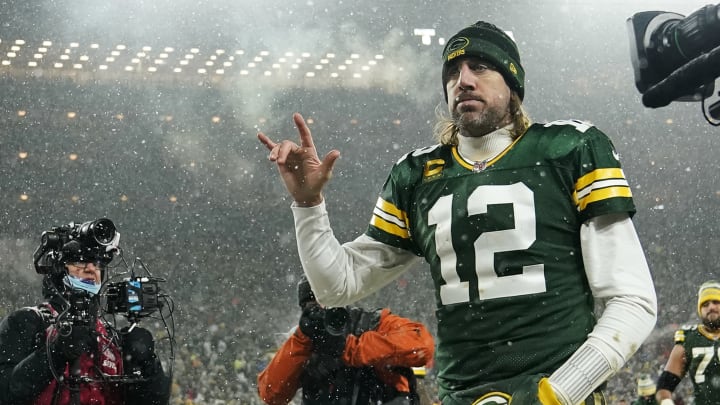 NFC Divisional Playoffs - San Francisco 49ers v Green Bay Packers / Patrick McDermott/GettyImages
Green Bay Packers left tackle David Bakhtiari (you might remember him from Pitch Perfect 2) got married over the weekend. The officiant for the nuptials was Bakhtiari's teammate (or former teammate) Aaron Rodgers. According to NFL insider Michael Silver, Packers coach Matt LaFleur was in attendance. Since it was Bakhtiari's big day, it's unlikely there was any talk about Rodgers' impending decision about his football future.
According to TMZ, Rodgers' ex Shailene Woodley was there as his date, which is nice. One day you're reportedly having breakfast after breakfast is done being served at a luxury supermarket, the next you're attending a wedding together. We've all been there.
Anyway, today's question is: Would you allow Aaron Rodgers to officiate your wedding?
As cool as it might sound, you have to worry that he never really got ordained, right? You say something like did you get ordained and he looks down at his phone as he says I've been consecrated. And you say, that doesn't really answer my question. Then he says don't worry about it and you say, you know it's free and convenient and it only takes a few minutes and you don't even need an appointment and the next thing you know you're getting accused of being part of the woke mob.
I'm not saying Jordan Love would get ordained and bring a printout to show you, but he certainly wouldn't accuse you of asking for his papers. So would you trust Rodgers to officiate your wedding? Please answer below.