Aaron Rodgers Calls Travis Kelce 'Mr. Pfizer'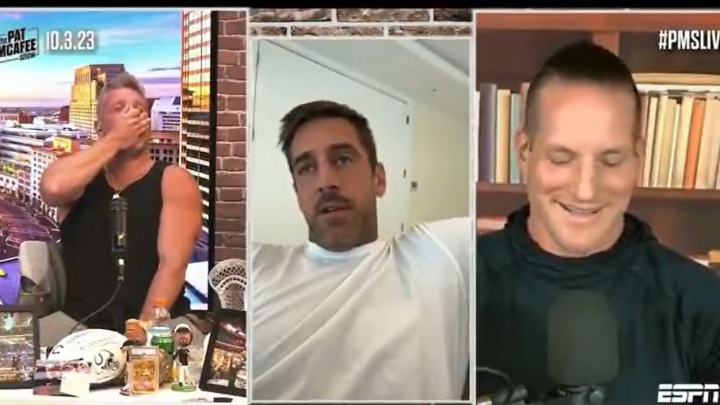 Aaron Rodgers was doing his weekly segment on the Pat McAfee Show giving his assessment of the New York Jets' 23-20 loss to the Kansas City Chiefs. In the middle of his review of the game, Rodgers referred to Travis Kelce as "Mr. Pfizer" in a clear dig at the All-Pro tight end.
Kelce has been doing Pfizer commercials encouraging people to get this season's COVID-19 vaccine when they get a flu shot. It's a pretty innocuous commercial that wouldn't have been a big deal if he'd done in five years ago. Now with the growth of anti-vax sentiment in the world, that commercial has somehow become controversial. Rodgers, who has begun building his entire public persona around being against the COVID-19 vaccine, couldn't resist taking a shot at Kelce.
Here's video:
What's really ironic here is that as Rodgers takes a shot at Kelce for being associated with a pharmaceutical company, his checks are funded by one. Woody Johnson, who owns the Jets, is the heir to the Johnson & Johnson fortune. And a few months ago, Rodgers took a $33.7 million pay cut to help that guy out. So it's fine for Rodgers to accept money from Big Pharma, but not Kelce. Got it.
Back in July of 2021, Kelce gave interviews promoting vaccination, though he said it was up to others to decide for themselves whether to get vaccinated. He did say he believed it was best if NFL players got their shots.
Again, that stance was in no way controversial a few years ago.
Now that Rodgers is injured, he's no longer the most discussed NFL player. That award currently belongs to Kelce due to his rumored relationship with Taylor Swift. There might be a twinge of jealousy coming from Rodgers in those comments.