Three Trade Destinations For Aaron Rodgers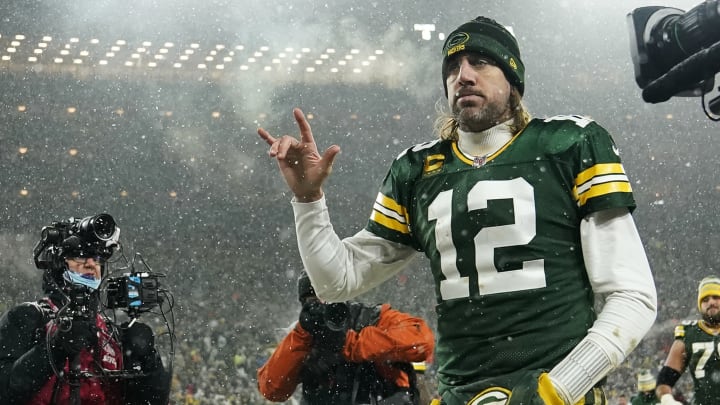 Aaron Rodgers / Patrick McDermott/GettyImages
The Green Bay Packers came up short in the playoffs once again. Once again, they fell at the hands of the San Francisco 49ers on a freezing-cold evening. And once again, it was the type of total team collapse that we've become used to seeing from this team when everything matters most.
Aaron Rodgers did not play particularly well but special teams lost the day, giving up a blocked field goal and giving the Niners their only TD of the day via a blocked punt. Last year it was Matt LaFleur's decision to kick a field goal down eight to the Tom Brady-led Buccaneers late in the fourth quarter. The year before that it was the run defense getting completely gashed. It's always something, and it's part of the reason why Rodgers nearly forced his way out before the 2021 season.
Rodgers came back because the Packers renegotiated his contract and gave him a way out after 2021 if he was still unhappy. He had another MVP-caliber season and led the team to the first overall seed, but none of that matters if they can't win a playoff game. Green Bay changed for Rodgers and the end result did not change.
This means that Rodgers getting traded is a stronger possibility than ever. If it happens, where will he end up? It is extraordinarily unlikely the Packers will send him anywhere in the NFC, so here are the three most likely destinations in the opposite conference.
Denver Broncos
Everybody's favorite team to point to when talking about Rodgers rumors, the Broncos' 2021 season hammered home what we all knew-- it's a good team that could be great with a big upgrade at quarterback. Denver has a collection of talented and young skill position players on reasonable contracts for the next few years. Their defense returned to its typically stingy level. After spending the last few years getting yanked around by Patrick Mahomes, those in charge know they need an elite QB to compete, so the motivation is there.
GM George Patton spent most of his recent years in Minnesota and knows Rodgers' strengths and weaknesses very well. Between the young talent and their own draft picks, the Broncos can make a good offer. But they might not have enough ammunition to get the deal done.
Pittsburgh Steelers
As we here at The Big Lead have noted numerous times, the Steelers have no plan in place for the day Ben Roethlisberger retires, a day that is almost certain to come very soon. Reports from after Pittsburgh's season-ending loss to the Chiefs suggested the team will look inwards for their replacement and probably take a QB in this year's draft. But the quarterback class is weak and neither Mason Rudolph nor Dwayne Hasksins have shown much. The rest of the team is in great shape; the offense has playmakers and the defense boasts several top-end players along with a perennial Defensive Player of the Year candidate in T.J. Watt. If Rodgers becomes available, the Steelers have to make an offer.
It seems like a perfect fit. Mike Tomlin is a great coach and the Steelers are a historic organization with no time for a rebuilding period. Much like the Broncos, though, Pittsburgh won't be able to blow Green Bay away with an offer. They have their own draft picks but don't have much else to offer. But also much like the Broncos, the Steelers reside in the AFC and Green Bay won't have to see Rodgers very often, if at all. The Steelers will be hard-pressed to win a bidding war but remain a legitimate option if the Packers just want Rodgers out.
Cleveland Browns
The Browns' marriage with Baker Mayfield appears to be on the rocks right now and both sides may be interested in a fresh start. Unlike the other two options on this list, the Packers could feasibly get a younger quarterback with upside in a potential trade, although it would be complicated with the big contract numbers on both sides. The Browns check a lot of boxes for a team looking to upgrade at QB-- an elite offensive line, a dangerous run game, and a defense that flashed serious potential in 2021 before things got derailed by injury.
Cleveland has all their picks to work with and can offer up Mayfield. The Packers might not be too interested in the former No. 1 overall pick given they still have 2020 first-rounder Jordan Love on the roster, but he hasn't shown much in his few appearances. Should Green Bay be looking to retool instead of rebuild (which would make sense considering the talent on the roster around Rodgers), Mayfield very well could be their best option and that makes a deal with Cleveland the most attractive. It's a lot of ifs, though.