Aaron Rodgers Has Made Millions From Appearing on the Pat McAfee Show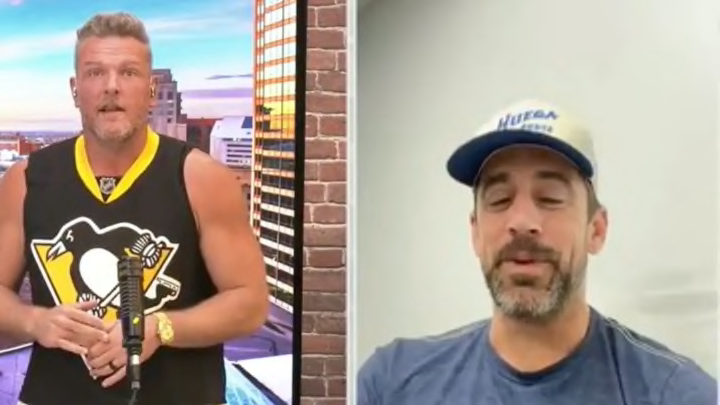 Andrew Marchand's latest investigative report dives into the blocking and tackling behind those infamous Aaron Rodgers appearances on the Pat McAfee Show. Avert your eyes if you can't handle the hard truth of sausage-making but it appears the controversial quarterback has not been swinging by most Tuesdays out of the goodness of his heart and interest in conversing with the boys in increasingly impressive studios.
"Aaron Rodgers Tuesdays" and "Nick Saban Thursdays" have become staples of the program and the sports media world. But there is a special sauce that makes it all go. McAfee spends millions to procure these interviews, The Post has learned. 

Rodgers is receiving more than seven figures per year to come on the show each week, according to sources, while Saban is in that vaunted neighborhood.
This is not a new way of doing business nor is it out of the ordinary for recurring guests with big names to receive financial incentive on audio and video shows. But these spots have been crucial in McAfee's meteoric rise and knowing that they are the product of simply being the highest bidder changes the way we'll perceive them.
Or maybe not. Maybe everything in life is transactional.
Rodgers' most recent appearance offered him floating the idea of a cursed debate about COVID vaccines featuring himself, Travis Kelce, Robert F. Kennedy Jr. and Dr. Anthony Fauci. Adam Schefter could not resist the urge to leverage it into Twitter impressions and seemed excited about it but there was a significant amount of pushback from people — and that was before they knew ESPN is essentially paying Rodgers to come on and spread misinformation. So they'll be doubly mad now.