Aaron Rodgers Arrives On Crutches For Jets-Chiefs Game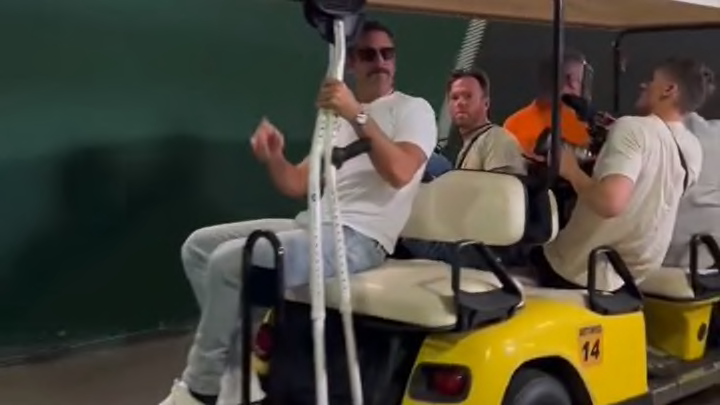 Aaron Rodgers tore his Achilles tendon on the fourth play of his tenure with the New York Jets. He's been absent from the team ever since, but that changed on Sunday. Rodgers will be in attendance as the Jets take on the Kansas City Chiefs on Sunday Night Football.
We have video of Rodgers showing up at MetLife Stadium and riding a cart, while holding a set of crutches. He gave a wave to the camera as he rolled past.
Check it out:
He seems to be in good spirits despite the Jets' struggles. The team has struggled mightily with Zach Wilson under center after pulling off an upset win over the Buffalo Bills in Week 1. New York was hammered by the Cowboys 30-10 in Week 2 and looked awful in a 15-10 loss to the New England Patriots in Week 3.
Wilson was the No. 2 pick in the 2021 NFL Draft and hasn't lived up to expectations. Maybe having Rodgers around will help and that's why the veteran is back with the team. Or maybe the four-time MVP just decided to show up because Taylor Swift will be in the house.