Aaron Rodgers: Brett Favre Threw No-Look Passes Long Before Patrick Mahomes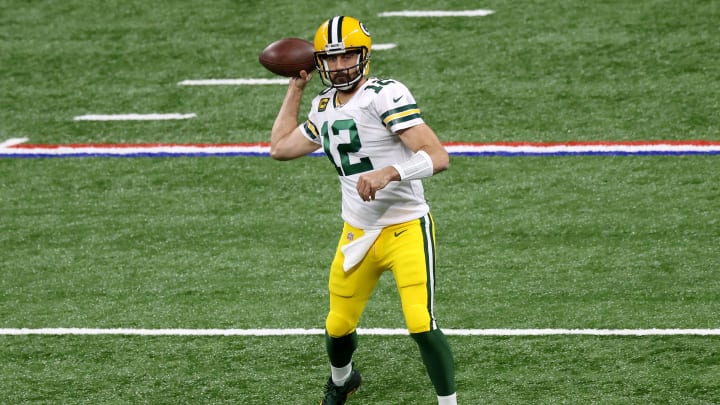 Aaron Rodgers, Green Bay Packers v Indianapolis Colts / Andy Lyons/Getty Images
During his weekly segment on The Pat McAfee Show, Aaron Rodgers turned in yet another stellar performance. The Green Bay Packers' quarterback talked extensively about NFL quarterbacks throwing no-look passes and seemed to think it was ridiculous that Patrick Mahomes is seemingly credited with inventing them.
Rodgers mentioned that he threw a "pretty sweet" no-look pass to Davante Adams on Sunday. Then he actually rolled his eyes when McAfee broached Mahomes inventing the play because it's been happening for years despite all the attention Mahomes has been getting the last few years:
It's pretty great that Rodgers credits Matthew Stafford with doing it "all the time" and using different arm angles to fool defenders, yet doesn't get credit for it. They are, after all, longtime NFC North rivals.
Rodgers then claimed he started throwing no-look passes back in 2005 after seeing Brett Favre do it regularly:
The story about Rodgers throwing them during walkthroughs as a rookie and pissing off his coaches is pretty classic.
Once again, Rodgers brought great content in his weekly segment. It was informative and entertaining. These spots have been a home run for Pat McAfee.