Aaron Rodgers Finds It Interesting People With Big Brains Have Conspiracy Theories About His Achilles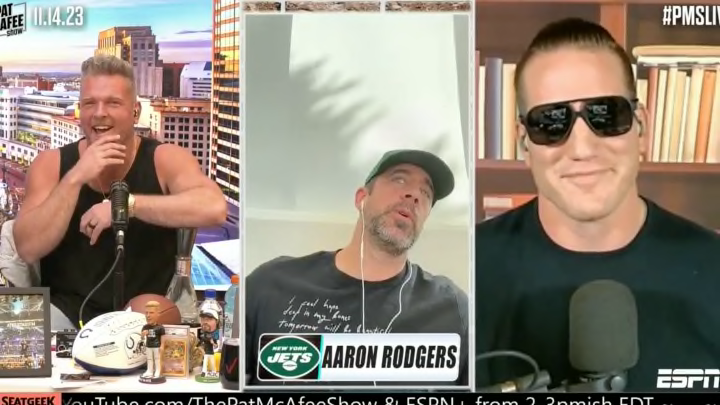 Aaron Rodgers called in for his regular appearance on The Pat McAfee Show on Tuesday. As usual, it was an opportunity for Rodgers to get some things off his chest and correct all the misinformation out there in the lamestream media. One of main things he had to clear up were the reports about when he would return to the Jets lineup following Achilles surgery because the media keeps reporting things he's said.
First of all, he won't be back in weeks, like he told Derwin James. Or a few fortnights like he told McAfee last week. And it won't be mid-December like he told Melissa Stark.
The timetable is... there is no timetable. Just know that he's coming back faster than any other human who has ever suffered this injury. And he's doing it with research and modalities and stuff your big brain can't handle as you spout serious conspiracy theories about his achilles.
"I have some very interesting thoughts that ESPN would probably try and cut off the broadcast if I started to really getting into how I feel about that stuff. Yeah, yeah. The same conspiracy... the same people talking about that you know. Entertaining the possibility of conspiracy about my Achilles could not possibly fathom a world in which anything related to this beautiful, experimental gene therapy could be... could have any issues with that. Fascinating. Fascinating. So I just went into it they probably just cut the feed. I don't give a shit. I don't give a shit."
Something to think about while we wait for the next video of Rodgers throwing a football. Especially the part about ESPN cutting the feed as if they weren't happy to have him on their airwaves to talk about whatever he wanted every single week.