Aaron Donald Didn't Expect or Want Rodney Harrison to Report Details of 'Personal' Meeting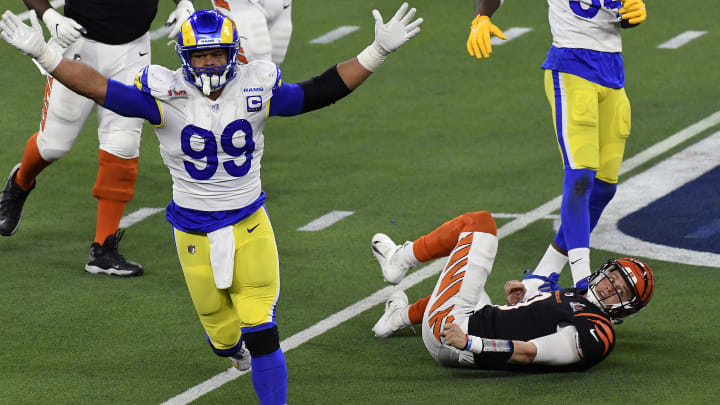 Focus On Sport/GettyImages
Aaron Donald, undeniably one of the most ferocious defensive players to play in the NFL, found an extra gear when it mattered during Super Bowl LVI and the Los Angeles Rams emerged as world champions because of it. His late-game pass-rushing heroics came mere hours after NBC's Rodney Harrison shocked a massive audience during pregame coverage by reporting that Donald was considering retirement should he capture the Lombardi.
This surprising nugget snapped into focus as one of the major storylines, with Michele Tafoya mentioning it later on in the broadcast. The specter of Donald riding off into the sunset after reaching the mountaintop loomed over the action.
In the moment it felt odd. That a bombshell report like this would be casually tacked on to an otherwise forgettable pregame piece. Greg Bishop, writing for Sports Illustrated, explains exactly what happened to create such an odd vibe.
All the drama started when Donald met with NBC broadcasters during Super Bowl week. Before sitting down, he had an informal conversation with Rodney Harrison, one Donald calls "personal," meaning between them. When the retired NFL safety joked that Donald might play 15 additional seasons, the defensive tackle responded honestly, answering for, he believed, an audience of one. "Honestly, you never know," he responded. "This could be my last year."
Harrison shared that sentiment on national television before the game, but Donald didn't find out until afterward, when reporters asked him about it. "I wouldn't expect [Harrison] to do something like that," Donald says. "I wouldn't want him to." Notice what he didn't say: that Harrison was wrong.
Donald was poised and non-committal as the confetti fell and during the resulting revelry. Which is impressive considering how he never wished to go this public with his inner questions. Bishop concludes:
Those placing bets should put their money on another season. But it's far from the certainty that has been hopefully described. Donald's confidants believe he's split between his choices, with plenty of thinking left. Even McVay hunted for clues. In Cabo San Lucas with his defensive coordinator, Raheem Morris, they FaceTimed once again with Donald. They had heard he was house hunting (disaster?) . . . in greater Los Angeles (relief!). They jokingly hoped Erica would find the most expensive mansion on the market, so her husband would need to work.
Donald's dilemma can be understood in one photograph, a stunning image snapped from behind him at the parade. He's on the stage, shirtless, of course, holding the Lombardi Trophy in his right hand. The diehards down below are screaming, sharing in his jubilance. Viewed one way, the shot looks like the pinnacle, the moment when there's nothing left to accomplish, and it's time for a champion to go full dad. Viewed from another angle, it's a king standing before his kingdom, and rather than retire, he's ready to rule.
While that mystery remains, the one about just how in the hell the Donald storyline blew up on Super Bowl Sunday is solved. People will choose their words differently for an audience of one than they will for an audience of one hundred million. Probably best that all parties involved are on the same page in terms of what's expected to be made public and what was a personal aside.