49ers Victims of Horrible Unnecessary Roughness Call on Tashaun Gipson
And another questionable call moments later.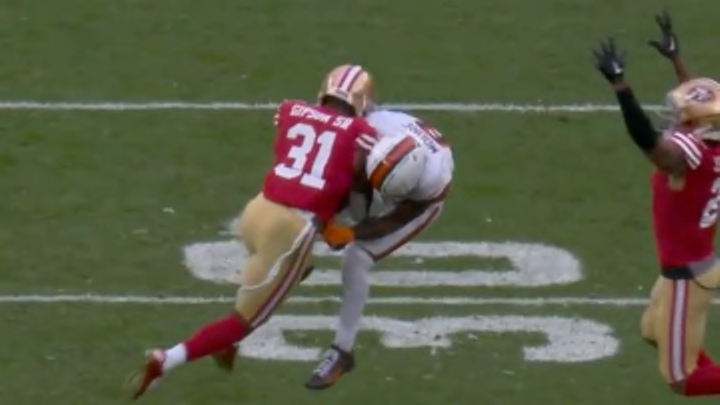 The San Francisco 49ers - Cleveland Browns game came down to the wire in Week 6. The 49ers had a 17-16 lead late in the fourth quarter when an egregious personal foul call was made on Tashaun Gipson Sr. The Browns were facing 3rd-and-10 when PJ Walker threw the ball to Elijah Moore. Moore did not catch the pass, but he absorbed a hit from Gipson and flags went flying.
As you can see, Gipson leads with his arms and shoulder and hits Moore in the chest. There are zero helmets or heads involved, but the Browns got 15 yards and a free set of downs.
Kevin Burkhardt and Greg Olsen looked at the play on replay and didn't think it looked like a foul. Rules expert Gene Steratore then confirmed what the announcers thought by saying that it probably shouldn't have been a penalty.
The Niners were the victims of another questionable call later in the drive as the Browns moved into field goal position. And the Browns eventually kicked a go-ahead field goal with 1:40 remaining thanks to those two questionable calls.