Browns Wide Receiver Elijah Moore Ran the Ball the Wrong Direction For a 20-Yard Loss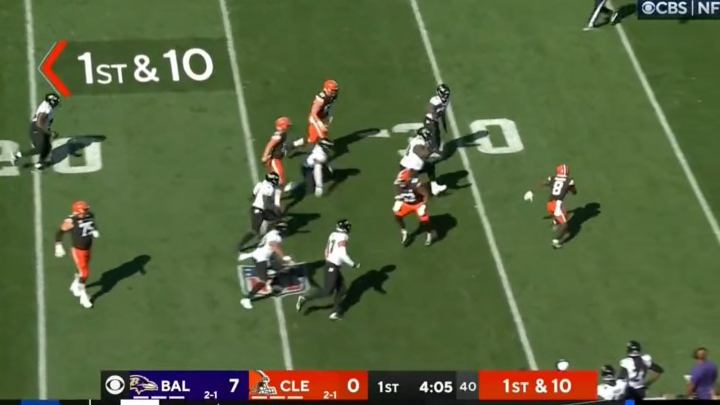 The Cleveland Browns hosted the Baltimore Ravens in an AFC North matchup during Week 4. Trailing by a touchdown during the first quarter the Browns moved the ball from their own 25 to the Ravens 19. That's where quarterback Dorian Thompson-Robinson handed the ball to wide receiver Elijah Moore on 1st and 10 and Moore killed the drive by getting tackled for a 20-yard loss.
Second and thirty is not the kind of situation that teams generally gameplan for, which is why you should not run the wrong way when you're in the red zone. With the drive completely stalled, the Browns were only able to gain four more yards before settling for a field goal.
This was Moore's seventh carry of the season. In his first two years in the NFL, with the New York Jets, he had 10 carries, which is pretty good for a wide receiver. Unfortunately, with the loss of 20 his yards per rush average dropped from 5.1 to 3.6. It certainly wasn't the result that will inspire many more calls for him this season, but the way the Browns offense has been playing, who knows. When you lose Nick Chubb for the season, you have to get creative. Just, uh, not like that.