Zion Williamson Unexpectedly Shows Up to Gilbert Arenas Podcast Recording And Gives Shockingly Honest Interview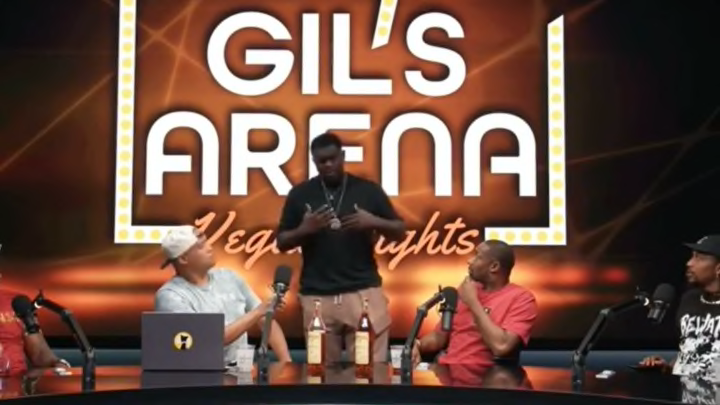 Zion Williamson /
Zion Williamson has not had a good stretch over the last six months or so. He was hurt for the vast majority of this past NBA season and wound up in trade rumors once it ended after his personal life went very public. The jokes have come fast and furious, as they always have with Zion, but now there are questions about his viability as an NBA player. Not much has tangibly changed, but another year lost to injury combined with his off-court decision-making creates quite the content stew that can drive studio discussion for weeks.
With all that's happened it therefore comes as a bit of a surprise that Williamson seemed to randomly pop in on a Gil's Arena podcast recording. The pod normally records in Gilbert Arenas' basement but the crew was in Las Vegas for Summer League and from what we can tell Williamson decided to stop in for an impromptu interview. They didn't go into the specifics of what got him in the news this summer but Williamson himself alluded to it while talking about how he's "righting wrongs" with some motivation from Coach K. The high-flying superstar also talked about his struggles with dieting, his weight, and the injuries that have plagued him so far in his career.
All in all it was a stunningly honest interview coming from a guy who, to this point, seemed to favor actions over words. Here are some highlights:
And here is the full interview:
It's tremendous stuff by the cast and the bluntness from Zion is greatly appreciated. Sometimes it feels like he leans into the unspoken drama a little bit, like his whole windmill dunk show before the New Orleans Pelicans' play-in game back in April (a game he missed due to injury). At this point in his career there has been far more digital ink spent on anonymous reports and interpretations of his actions than what he's actually said or done. So this is a nice change of pace and perhaps a sign that things will shift in that regard.
We all need this man back on the floor. He is a once-in-a-generation player. Hopefully everything he said in the clips above will prove to be more than just talk.