Zay Flowers Stopped Short and Sent Cole Holcomb Flying Out of Bounds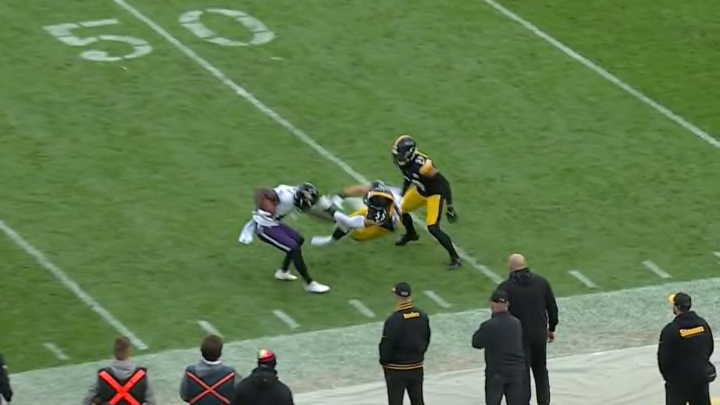 The Baltimore Ravens and Pittsburgh Steelers met for a classic AFC North battle in Week 5. By classic we of course mean low scoring. The Ravens had just a 10-3 lead in the third quarter when Lamar Jackson completed a 20-yard pass to Zay Flowers down the sideline. After Flowers caught the ball he stopped and stuck out his arm to help Steelers linebacker Cole Holcomb going flying past him out of bounds.
This is just not the look you want if you're a Pittsburgh Steelers linebacker. You think James Harrison or Kevin Greene ever did anything like this? I don't think so.
The fact that Flowers actually got his hand on Holcomb here doesn't help. If you didn't know any better you would assume Flowers was the strongest man alive to throw a 240-pound dude aside like this.
The good news is that Minkah Fitzpatrick was not moving fast enough to get made a fool of on the play and was able to push him out of bounds. The bad news is that the fans are booing in Pittsburgh and it has nothing to do with this one silly play.
Offensive coordinator Matt Canada is getting the worst of it today.