Zach Wilson Took Out Robert Saleh on Jets Sideline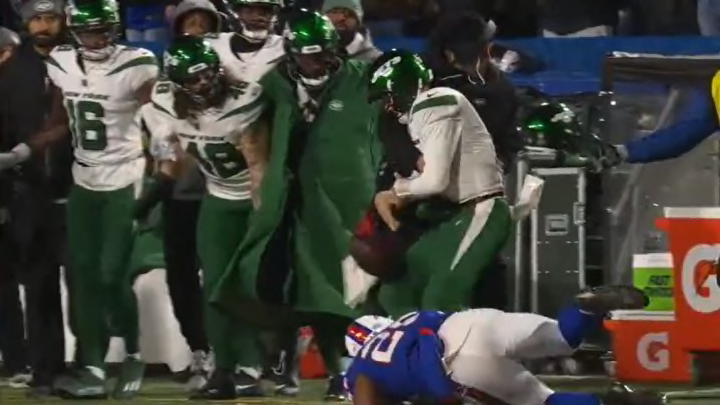 Zach Wilson is once again preventing the New York Jets from competing in a game with his awful quarterback play. His inability to make basic reads and throws has derailed the team's season despite a genuinely elite defense. Head coach Robert Saleh continues to run Wilson out there though and on Sunday he paid for that.
With the Jets trailing the Buffalo Bills 22-6 early in the third quarter, Wilson scrambled towards the sideline where he was hit by linebacker Tyrel Dodson. That hit sent the quarterback right into Saleh, taking him out with a brutal hit.
Check it out:
Can't say Saleh doesn't deserve that after sticking for Wilson for the entire season.
It's not a stretch to call the No. 2 pick from the 2021 NFL Draft the worst quarterback in the league this season. He was finally pulled on Sunday near the end of the third quarter after going 7-for-15 for 81 yards, with a touchdown and an interception. Entering Sunday's game, Wilson was completing 59.8 percent of his passes on the season for 1,863 yards, with five touchdowns and six interceptions. His QBR (34.2) ranks 29th in the NFL and his passer rating (74.6) is flat-out awful.
Tim Boyle is now in at quarterback.