Will All the Bulls Get Suspended For Leaving the Bench During Zach LaVine's Shoving Match?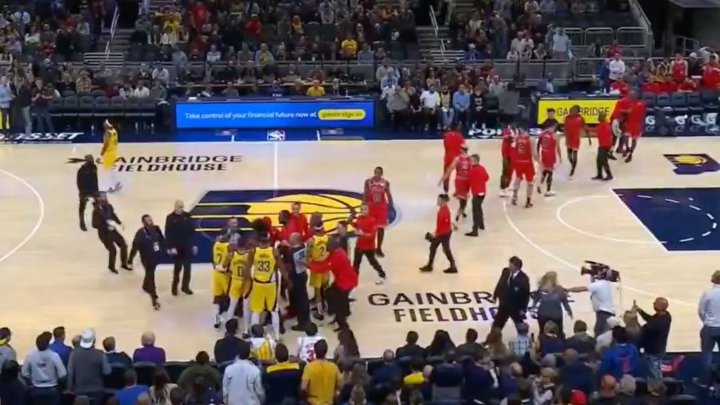 The Chicago Bulls beat the Indiana Pacers on Monday night, 112-105. Zach LaVine scored 23 points for the Bulls and also got into an on-court confrontation that may result in most of his team getting suspended for a game.
LaVine brought the ball over half-court with a minute remaining in a seven point game and was trapped by three Pacers defenders. LaVine was somehow granted a timeout, but didn't like how Andrew Nembhard went after the basketball and tried to take it back. Nembhard did not give the ball back and LaVine suddenly found himself in a shoving match with Buddy Hield and Miles Turner, while an official held back Nembhard. That's when pretty much everyone in the arena wearing red ran or wandered onto the court.
The Bulls bench basically emptied while no one left the Pacers bench because you're not supposed to leave the bench area when there's some kind of altercation, which there clearly was. Who knows how the NBA will sort this out because by the letter of the law, everyone who wasn't on the court when that play started should be suspended.
Since nothing came of it the league could just play it cool and pretend nothing happened. Of course, that puts them in an awkward position the next time somebody wanders off the bench. So maybe we'll see one of those games where all five players have to go 48 minutes. So much for load management. Whatever they do, the Bulls players-only meeting on opening night obviously brought the team together.