We Loved Young Dylan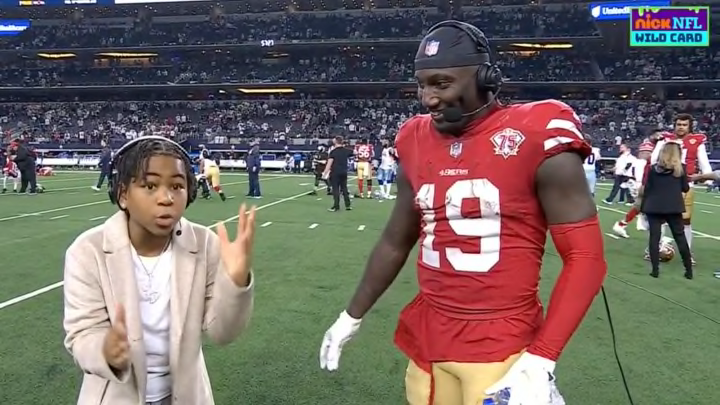 Nickelodeon brought back its wildly successful NFL Wild Card Game broadcast for a second season, with enough kid-friendly banter and green slime to go around. It happened to feature the San Francisco 49ers and Dallas Cowboys playing the weekend's best game, making it an even more enjoyable experience. For a second consecutive year, I attempted to foist this bit of entertainment on two small children with no affinity or connection to football, again with mixed results. They were certainly more captivated by all the bells and whistles yet it would be a significant shock if they came to me later today with thoughts on the 4-3 defense or Dak Prescott's ill-fated draw play.
Noah Eagle, Nate Burleson and Gabrielle Nevaeh Green led conversation from the booth, never talking down to the audience while never straying too far from the plot that someone invested in the outcome would be put off by the detours. Graphics packages came fast and furious, as if operated by a zany morning radio show producer who just got a new soundboard. As they should because, well, have you consider the median kid's attention span? At no time was it possible to forget you were watching the Nickelodeon broadcast. Copious amounts of goo and characters were liable to pop up at any time, each an opportunity to re-engage young fans non-plussed with a run for no gain up the middle.
Taken as a whole, it was a markedly enjoyable experience. Though it should be said that the living room television found its way over to the CBS feed when a Cowboys' comeback looked possible in crunch time. A second foray into the space proved two things: that people will flock to and enjoy something different every once in a while, and that some of the thinkpieces claiming Nickelodeon had changed the broadcasting game forever were a bit too reactionary.
If there's a third thing: Young Dylan was fantastic. A staple on the channel's NFL Slimetime, the fresh new voice was tasked with working the sidelines, where he absolutely crushed it. His in-game hits were high-energy and welcome. He was smooth and polished, brimming with exceptional confidence. Listen to his postgame interview with the victorious Deebo Samuel.
Heck yes. Getting bulletin-board material and a social breakout at the end there with a loaded question.
It is admittedly specious to draw large conclusions from one household, but Dylan was a massive hit from one of the couch to the other. His ability to sound like a kid, to have that earnest thrill in his voice really connected. Burleson and Eagle did a good job, of course, but they cannot do the thing the breakout sideline reporter did: look and sound like a kid. Not sure if there's any long-lasting benefit for the NFL, but it was clear my kids enjoyed seeing a bit of themselves on screen.
Young Dylan. Get used to the name.