You Simply Have to Put Charles Barkley on TV As Much as Possible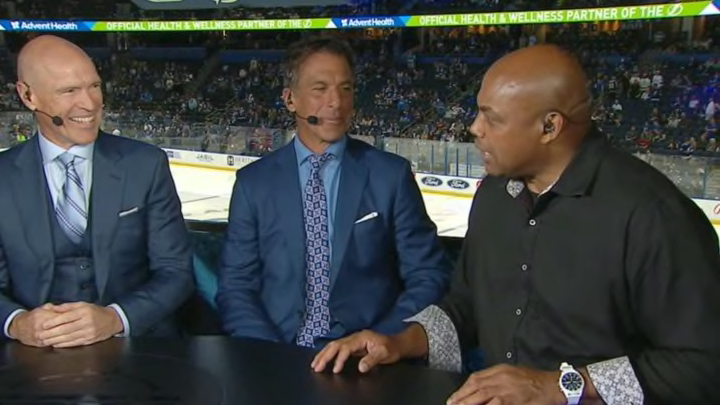 At first I didn't know why Charles Barkley was joining ABC's coverage during the first intermission of Game 3 of the Stanley Cup Final. He is with Turner after all, the other first-year rightsholder who has revitalized the game with increased accessibility. There are any number of superstars under the ESPN umbrella who could be ushered in to generate heat and a fresh perspective. But then two things dawned on me.
If Barkley is within reasonable distance of your television broadcast, you should move heaven and Earth to put him on camera and shift the vibe. ESPN, outside of perhaps Stephen A. Smith, doesn't have anyone like Barkley. No one does. He is one of one and the longtime holder of the title belt for surest thing in sports television.
There are few more reliable bookings for showrunners who want an engaging guest. There is practically no venue in which he feels out of place because he has an innate ability to blend in while standing out. It's not that he has an endless array of notes. He simply plays the few he has so damn well.
Consider not his contributions to the way basketball is synthesized to viewers but his contributions to how hockey is being re-sold to the masses. One network let him cook in their shiniest kitchen when the place was packed. The other has essentially taken the blueprint of Inside the NBA and put it on ice. Everyone has tried to re-create the chemistry and pacing of Barkley, Ernie Johnson and Kenny Smith.; Turner is simply doing it with far more institutional knowledge.
When one allows the mind to wander, it goes to some interesting places. Like: just how important is Barkley to sports television over the past two decades? Certainly as important as Tony Romo, who is given credit for trailblazing and jump-starting the play-by-play wars. Certainly as important as Jamie Horowitz's embrace of debate for daytime shows.
Barkley was the animating personality that eventually shifted the pendulum from slick persona to authentic nature and actually saying stuff. He's a blueprint that can be copied yet never replicated, though Draymond Green certainly has the best chance.
There is no shortage of people consistently great on television. Yet it's a select few who can simply sit silently and add value. The buzz of Barkley hopping in tonight had heat in a way nothing has in hockey media for a long, long time.
Some diehards may hate his mere presence. His inclusion in March Madness coverage is not for everyone, especially those who care about deep analysis — or at least mastery of the teams in the tournament.
It's just so damn valuable to everyone else.
The networks. The NHL. The viewers at home. He should be on camera as much as possible, whenever possible. Because he's always a winning bet.