Did Yankees Pitcher Clarke Schmidt Run Over the Rays' Third Base Coach on Purpose?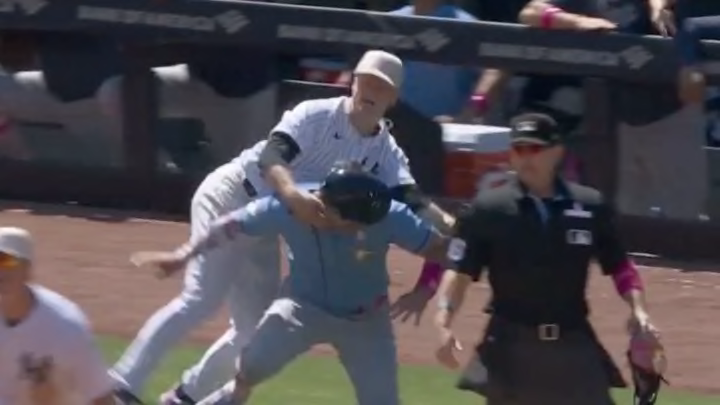 The Tampa Bay Rays beat the New York Yankees in the Bronx on Sunday afternoon, 8-7. Clarke Schmidt gave up six hits and seven runs in 4 2/3 innings and was credited with the loss, but what I'd like to talk about is what the hell happened in the fourth inning when he ran over Rays third base coach Brady Williams.
With one out in the 4th, Taylor Walls hit a deep flyball that Aaron Judge could not track down at the fence. The ball caromed into the outfield and Walls ended up sliding safely into third for a triple. As you could see in the live shot, as Walls slid, Schmidt ran over the opposing coach.
Schmidt sure looks like he's looking right at Williams and then turns his head back towards the play before running right into him.
This seems incredibly unusual, and the fact that Schmidt barely even glances at Williams and basically does an Allen Iverson step-over seems super weird! Was this intentional? Does he have beef with the Rays' coaching staff? Or maybe he was just frustrated about giving up a triple? Could he have been hoping to get some sort of interference call?
You could convince me of any of those things. And it doesn't seem like anyone talked about it beyond the fact that he truck-sticked a coach. In the NBA they'd have spent five minutes reviewing the play, but this is baseball so it's up to the Rays to determine if this was unnecessary or excessive. And if it is, they'll find a way to pay Schmidt or a teammate back later in the season.