Here's the Saga of the Yankees Fan Who Got Kicked Out of Yankee Stadium For Holding Giant 'Fire Cashman' Sign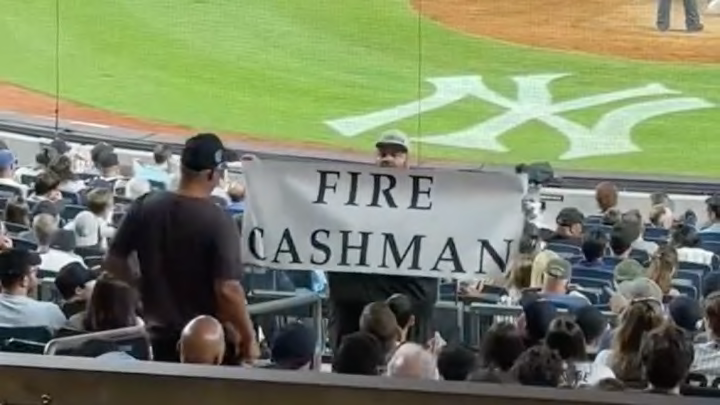 'Fire Cashman' /
Fans of the New York Yankees are not at all happy with longtime general manager Brian Cashman after an utterly lackluster trade deadline. The pinstripes are lurking in the basement of the AL East but were missing Aaron Judge for most of the first half of the season. The roster has clear holes but the team is still good enough to remain over .500 in the best division MLB has seen in years so the common logic was that the Yanks would be big dealers at the deadline.
Instead, Cashman made two very minor trades then got in front of the media to say he believes in the Yankees to simply be better in the second half. This is the second year in a row Cashman has said this and it didn't really work out last year so fans are upset about hearing it again. It led to a "Fire Cashman" chant during last night's game against the Tampa Bay Rays. It also led to one fan bringing a large FIRE CASHMAN sign that was taken away by stadium security once he got behind home plate. The fan was ejected.
The fan in question actually documented this whole saga and it's rather entertaining. He got stopped at security with the sign. Security tried to take it away but the rules say a sign can be no longer than six feet and his was exactly six feet. Then they started to complain about other parts of the sign.
Jon From Maspeth went on to say that security tailed him through the stadium and had someone watching his Twitter account. They pounced once he went down behind home plate. He presumably got kicked out because he did not have tickets to that section and it's against the rules to have a giant white sign behind the catcher. But I'm sure the content (or size) of the sign did not help his case.
His fellow fans loved it though.
A battle as old as time -- fans vs. the team's GM. Hard to say who won this round.