The Long-Haired Yankees Bat Boy Is a Drummer in a Band and They Rock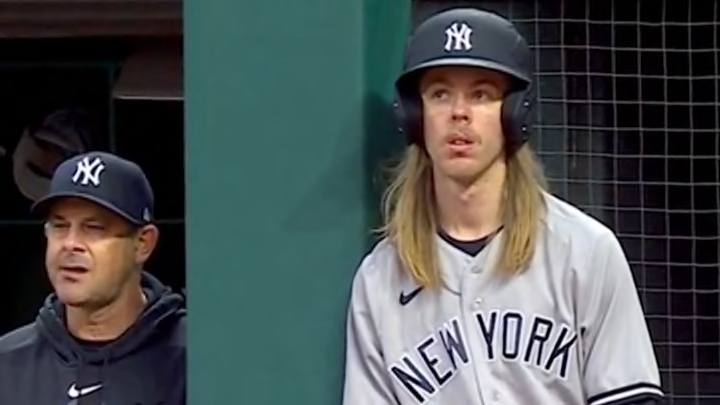 The New York Yankees happily employed Aroldis Chapman just a few years ago but some things are still beyond the pale, including have a bat boy wearing their uniform while sporting long hair. So it was a bit of problem when they showed up in Cleveland for a series with the Guardians and had this Taylor Hawkins-looking fellow posted up by their dugout.
YES Network play-by-play announcer Michael Kay identified the problems during Monday night's game.
"Strange to see a Yankees uniform and someone wearing that uniform with that sort of hair," he said. "There are rules. Rules are rules. He's disobeying two of them. I think there's facial hair and I think, obviously, the hair is below the collar."
The bat boy/Dazed & Confused remake extra was also wearing red shoes.
YES' social media team sent out a rare good tweet inspired by Joe Dirt.
Because life is too short to do the alternative, we're going to choose to believe that Kay was not actually personally offended and incensed and headlines suggesting he cried on-air about it for several minutes may be slightly unfair.
Last night brought some new developments as our dude was sporting a new vibe with his luscious locks hidden under a batting helmet. And Kay got to provide some more information on a trending topic.
It turns out, that's right, the bat boy is named Nate and he's a drummer in a band who found the "uproar from social media" humorous.
Kay said the band's name is Open Doors but a morning diving into the Cleveland music scene has led us to believe that it's actually The Open Doors, a regular at the Grog Shop with Nate Rosenhaus on percussion. They are pretty good. It would be a damn shame if they rode some free press to more gigs and sold a bunch of T-shirts.
Look, we're all adults here and can agree the Yankees' draconian hair rules are silly and outdated. But this feels like a happy ending for a guy who got a plug for his band and got to go viral for the alleged sin of looking too awesome.