XFL Ratings Promising in ABC Debut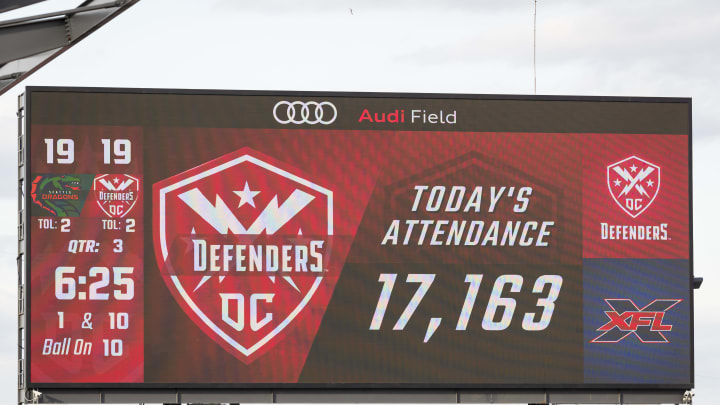 XFL DC Defenders scoreboard / Scott Taetsch/Getty Images
ESPN announced ratings for the inaugural game of the XFL relaunch on ABC, a matchup between the DC Defenders and Seattle Dragons, and they are off to a promising start:
These are pretty good numbers; the cleanest comparison is last year's AAF debut, which averaged 2.9 million viewers on CBS. This particular XFL game had a couple things going for it -- namely, the curiosity factor of the debut game and the fact that Cardale Jones is probably the league's most known entity. Jones won a national title at a flagship college football program like Ohio State, and it's clear there was a strategy to feature him early. Further, Seattle is a great oddball sports market -- look at how fervently they support the Sounders in the MLS.
Fox has not yet announced how the second half of the XFL doubleheader, a matchup between the Los Angeles Wildcats and Houston Roughnecks, performed for them.
Obviously, the challenge begins now for the XFL to sustain interest in a season that lasts all the way through April. Vince McMahon's league is immediately far better capitalized than the AAF was. It has better production value and crisper announcing with the Fox and ESPN/ABC teams than the AAF did. As Andrew Marchand pointed out, the broadcast distribution on Fox and ABC will also help the reach.
It's hard to peg a number on exactly what would be sustainable averages for the XFL on broadcast (Fox and ABC) and cable (FS1, ESPN and ESPN2). The marketplace has splintered rapidly over the last 5-10 years and no end in sight is near for the fragmentation as new OTT platforms pop up every month.
WWE Smackdown averages around 2.5 million viewers on Fox on Friday nights, and Fox pays WWE about $205 million annually for those rights. You'd have to think that if the XFL can hover around there or even down to the 2 million range on broadcast, and maybe around 1-1.5 million on cable, it'd be considered a pretty big success.
It's presumable that people will point out that more people watched this game than Lakers-Warriors, which aired on ABC in primetime on Saturday night, and averaged a notch over 2 million viewers. This is not really an apples-to-apples comparison as the XFL had the novelty curiosity factor going for it. Let's see how things look in March before making any grand proclamations there.
It bears repeating that the XFL is far from proving that it will be a sustainable operation, but this is a strong beginning and it's plausible that it could succeed.