Wizards Assistant Coach Tries to Charge Fan During Game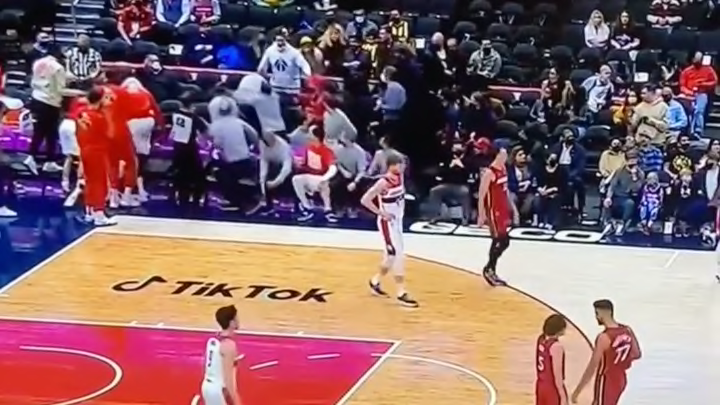 Wizards coach goes after fan (upper left-hand corner) /
The Washington Wizards lost to the Miami Heat at Capital One Arena last night by the score of 121-100. It was the Wizards' second consecutive double-digit loss and their eighth defeat in their last nine games. Things are not exactly going well in the nation's capital as we near the midseason mark.
In the final seconds of the loss, things nearly got even worse. As Miami dribbled out the clock with less than 30 seconds remaining, a Wizards assistant coach began to exchange words with a fan a few rows behind the bench. The fan then started gesticulating wildly and apparently said something they should not have said because the Wizards assistant got up from his seat and tried to go after the fan. You can see the altercation take place in the upper-left hand corner of the below video.
Fortunately, he was held back by two of his players before the incident blew up. Head coach Wes Unseld Jr. was asked about it after the game and expressed his disappointment that the coach did not take the high road in this instance, but did note the fan (or fans) said something that was "out of line" to cause the incident.
Based on the NBA's history of dealing with such incidents, an investigation will be launched into the fans and what exactly they said to spark the conflict and they will likely face some kind of punishment. The coach will end up getting suspended for a game or two regardless because he just cannot react like that.
The return of sports post-pandemic has had to serve as a reminder that fans are not permitted to say whatever crosses their mind just because they paid to show up. Players and coaches have been more vocal than ever in their requests to keep all trash talk respectful, and fans who do not adhere to those requests have been kicked out and banned from arenas. But a coach still can't charge after a fan like this Wizards assistant did.