Will Financial Pressure Finally Force Dan Snyder to Change His Team's Name?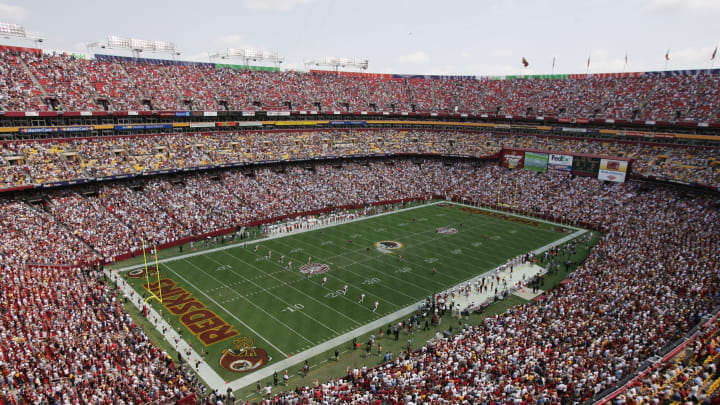 The Washington team's satdium / Doug Pensinger/Getty Images
There has been relatively consistent pressure around the Washington football team to change their offensive name for most of this decade. As America's sensitivity towards racial issues have heightened significantly over the last month and a half, that pressure has grown . To an extent, Washington has listened; they took down the statue of former owner George Preston Marshall, who had to be forced by the government to racially integrate his team in the early 1960s. They also renamed the lower bowl of FedEx Stadium in honor of their first black player, Bobby Mitchell, after retiring his number.
And yet the team name, coined after a derogatory term for Native Americans, remains. While it is good that no part of the stadium or its grounds pays homage to its former racist owner, it all seems disingenuous at best when the worst part of the organization stays unchanged. Dan Snyder appears to be remaining steadfast in his refusal to rename the team. He said in 2013 that he would "never" change it and nothing he has done suggests he has changed his mind. But now, for the first time in the public campaign to get the name changed, Snyder is getting hit where it really hurts: his wallet.
Shareholders and investment firms involved with Pepsi, FedEx, and Nike have penned a letter to the gigantic sponsors asking they end their partnerships with Washington unless the team name is changed. AdWeek reports three separate letters were sent, signed by 87 firms and shareholders. This is significant because the 87 signees in question are reportedly worth $620 billion combined. That's a lot of money talking to three of the biggest sponsors in sports.
That is not all. Yesterday, D.C. Democratic representative Eleanor Holmes Norton, D.C. Deputy Mayor John Falciccio, and chair of the House Natural Resources Committee Raúl M. Grijalva told the Washington Post that Snyder would not be able to build a new stadium until the name is changed. They have the power to do so because FedEx Stadium currently resides on federally-owned land. From the WP:
"There is no scenario in which Daniel Snyder will be able to build a new Washington Redskins stadium on the federally owned RFK Stadium site unless he changes the team's name. That was the unequivocal message from Eleanor Holmes Norton (D), the District's nonvoting delegate to the House of Representatives; D.C. Deputy Mayor John Falcicchio; and U.S. Rep. Raúl M. Grijalva (D-Ariz.), chair of the House Natural Resources Committee, in separate telephone interviews with The Washington Post on Wednesday. "I call on Dan Snyder once again to face that reality, since he does still desperately want to be in the nation's capital," Norton said. "He has got a problem he can't get around — and he particularly can't get around it today, after the George Floyd killing." Said Falcicchio: "There is no viable path, locally or federally, for the Washington football team to return to Washington, D.C., without first changing the team name.""
Snyder began lobbying officials for permission and funds to build a new stadium earlier this year. FedEx Stadium isn't exactly ancient. It was built in 1997. But it is on the older side for an NFL stadium and Snyder has no doubt been wooed by the bright and shiny new digs the Falcons and Vikings have built over the last few years.
Snyder is now facing pressure from all directions. An expectation of basic decency from the billionaire has not garnered the desired results. We'll see if the threat currently posed to his bank account does. There's already an easy alternative staring him right in the face!