Will Cain: Tom Brady as a Raider 'Just Looks Right'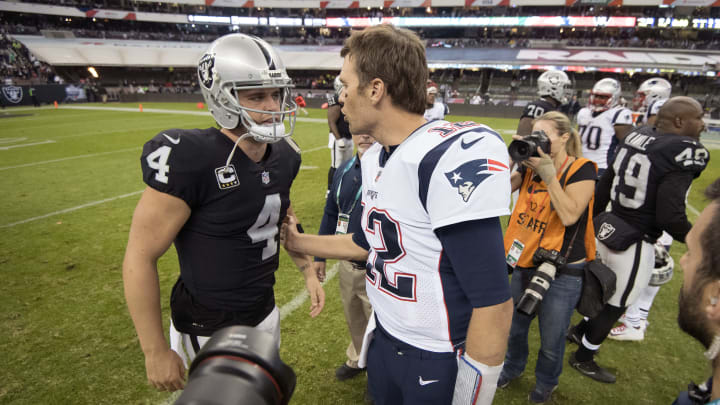 New England Patriots v Oakland Raiders / Jamie Schwaberow/Getty Images
Television simulcasts pose a challenge for radio shows. How do you make a person sitting in front of a microphone more interesting, more active? The Will Cain Show's solution recently has been to lean heavily into the 10:30 a.m. presentation in the conference room vibe -- sadly without the overflowing tray of danishes no one touches. Hence, we get things like this.
Cain stood in front of his fancy electronic whiteboard yesterday and matched quarterbacks with teams looking to mix things up at the quarterback position. The sexiest name, as always, was Tom Brady.
Seeing the greatest to ever do it in a new uniform will be weird if it happens. And Cain believes if that happens, it won't be with the Los Angeles Chargers, as many suspect. No, he thinks there's some fire behind the smoke created at last week's UFC 246 and the meet-up with fellow hunk Mark Davis.
"I think Tom Brady to the Raiders just makes a ton of sense," Cain said. "That team is on the rise." He added that Brady as a Raider "just looks right," which is a very tough claim to combat and also back up.
All of us who report to the Content Mills every morning would love this odd coupling. Brady going from Bill Belichick to Jon Gruden would be a culture shock so severe it rivals Karl Pilkington encountering, well, pretty much anything. Leaving the buttoned-up Patriot Way for The Strip and the Black Hole would be a phenomenal, potentially heel-ish move.
I cannot in good conscience advise Brady to do such a thing. The best and safest fit is to stay at home in New England. Everyone seems to agree on this. But there's a chance an organization known for ruthlessly trimming the fat will realize he needs them more than they need him.