When Is The Super Bowl 2022? Super Bowl LVI Date, Location, Time, Halftime Show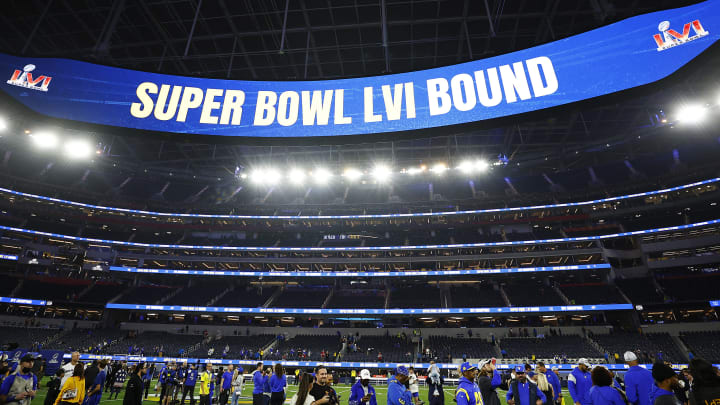 SoFi Stadium / Ronald Martinez/GettyImages
Super Bowl LVI is nearly upon us. The Los Angeles Rams will become only the second team ever to play a Super Bowl in their home stadium, hosting the Cincinnati Bengals at SoFi Stadium in downtown L.A. It promises to be quite an affair.
Here's everything you need to know about the 56th Super Bowl in NFL history.
When Is Super Bowl LVI?
Super Bowl LVI will take place on Sunday, February 13. The official start time has yet to be announced but it should begin roughly around 6:30 p.m. ET.
Why is the Super Bowl a Week Later?
In the past, the Super Bowl is the first weekend in February. If you knew this without needing to be told, kudos. But the 2021 season marks the first year in which the Super Bowl will take place during the second weekend in February.
This is because the NFL season was extended by one game beginning in 2021. During the 2020 offseason, the NFL and the NFL Player's Association agreed to change the length of the season from 17 to 18 weeks. The NFL wanted every team to play an extra game and the NFLPA agreed once the league met its requirements for extra compensation.
This means that everything on the NFL calendar is pushed back by one week. The Wild Card round, which usually took place on the first weekend in January, now begins in the second week of January, so on and so forth.
The Super Bowl will now take place in the second week of February until further notice. This year, that means it'll be on February 13.
Where is the Super Bowl This Year?
Super Bowl LVI will take place in Los Angeles, California, at SoFi Stadium, home of the Los Angeles Rams and Chargers.
Who is Performing the Super Bowl Halftime Show?
The Super Bowl LVI Halftime Show will be a joint performance between Dr. Dre, Snoop Dogg, Eminem, Kendrick Lamar, and Mary J. Blige. Here's a trailer for it if you haven't seen it yet.
Who is Playing in the Super Bowl?
The Los Angeles Rams will play the Cincinnati Bengals in this year's Super Bowl. The Rams defeated the San Francisco 49ers to get here, while the Bengals took down the powerhouse Kansas City Chiefs in a shocking upset at Arrowhead Stadium. It will be the first Super Bowl appearance for the Rams since 2018 and the first for the Bengals since 1988. The Rams went 12-5 during the regular season and the Bengals went 10-7, with both teams winning their respective divisions.