'Welcome to Wrexham' Is an Incredible Sports Documentary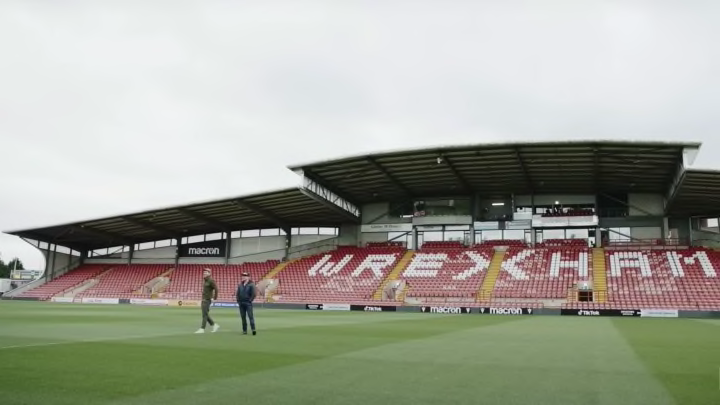 Welcome to Wrexham /
0:30-6:55: Liam and Stephen discuss why they were drawn to the documentary in the beginning and how it kept them hooked. It turns out Ryan Reynolds and Rob McElhenney are exactly how you'd imagine off-screen.

6:55-13:35: It does a great job breaking down how soccer works across the pond, so the barrier for entry is very low. Relegation is intriguing but could only be installed in a sport as old as soccer. Fascinating to learn how the purchase came to be. Has any piece of media ever done a better job outlining why sports are important to people and the value teams have in their communities?

13:35-21:11: It's a great feel-good story. But there are some heart-breaking moments, too. The players featured are unlike most pro athletes featured in a sports doc. Even Ryan and Rob are featured from the human interest side. The show also gives us an inside look at what it's like to own a team, which is utterly fascinating, both from an improving the team side and the type of nitty-gritty maintenance that comes along with it.

21:11-30:15: Interesting way of showing the team's history, spreading it out through multiple episodes. What are we looking forward to most for the second half of the season?
For the latest episode of The Big Stream, Liam McKeone and Stephen Douglas talk about the best sports documentary available on a streaming right now: Welcome to Wrexham. It follows the journey of Ryan Reynolds and Rob McElhenney after they purchased AFC Wrexham in Wales and the various challenges that come with owning a sports club. The documentary covers all the bases of a good sports doc -- inspiring underdog stories, human interest tales that feel like they're made for television, tremendous shots of soccer being played, and plenty of doses of humor from the main men themselves. The series is halfway done and will release weekly until October 5. Don't wait till it's over. Run to Hulu and give it a watch. You won't regret it.