Weatherford College Pitcher Decks NCTC Batter During Home Run Trot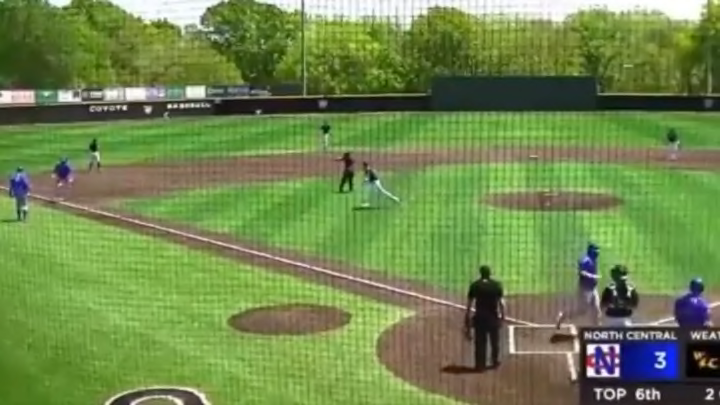 College baseball or football? /
Wednesday afternoon brought a college baseball matchup between Weatherford College and North Central Texas College. It was a fairly unremarkable matchup until the top of the sixth. NCTC was down by one to Weatherford before first baseman Josh Phillips cranked a two-run shot off right-hander Owen Woodward to give NCTC a one-run lead.
While Phillips was trotting around the bases, Woodward suddenly decided to turn into prime Ronnie Lott and sprinted towards the home run hitter as he rounded third, absolutely leveling him and (obviously) starting a bit of a scrum between the two teams.
The video is a little grainy and the net doesn't help. The video also starts when Phillips is over halfway through his home run trot so we don't have the full context. But still, we must determine: what happened here?
The initial reaction is to think Phillips did or said something that incited the incident. Pitchers don't turn into free safeties in the middle of a game for no reason. Phillips just jacked a go-ahead homer and was probably feeling good. Might've even talked a little trash on the way around the bags. It doesn't mean he deserved what he got, but it would help explain how this happened in the first place.
On the other hand, it could've just been a complete losing of the head from Woodward. Competitive athletes go nuts after failure all the time. This is a very extreme example but it could've just been a tough day at the office that led to lost temper.
But also! Phillips' teammates didn't really react the way we would expect in this kind of scenario. Yeah, they dogpiled the pitcher and batter and pried Phillips free so he could touch home and complete his home run circuit. Yet their reactions were muted. There's always at least one guy on the bench looking for an excuse to start a brawl and Woodward gave everybody on the team a very justifiable reason to start throwing hands. But no one did. Interesting.
Tremendous call on the broadcast here, by the way.