Latest NBA Leads
We Could All Learn a Thing or Two From These Sacramento Kings Fans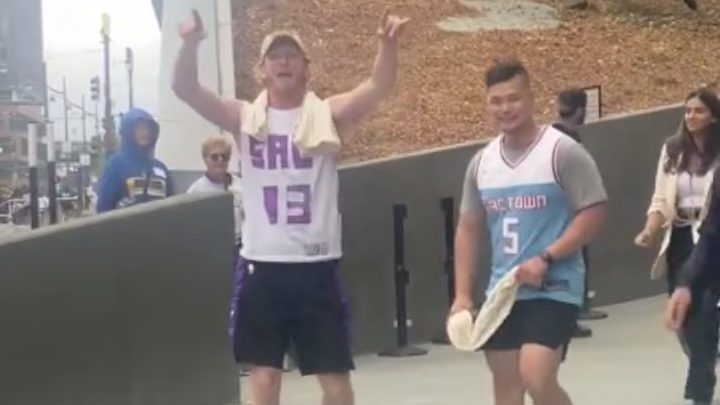 The Sacramento Kings took down the Miami Heat, 81-64, in California Classic Summer League action on Sunday night. Keon Ellis was 6-for-8 from the field and a perfect 5-for-5 from the free-throw line en route to 17 points while Keegan Murray got to hoist 15 shots and get some exercise. After the game, euphoric Kings fans piled out of the Chase Center and took to the San Francisco streets, including this trio.
Predictably, the internet, which is the worst place in the world, is having a field day mocking the bros for their enthusiasm. And their hopes and dreams of reaching 40 wins this season. A lot of people who think they are really smart are pointing out that finishing two games under .500 isn't enough to make the playoffs most years.
But not me. I love everything about this. The capacity to be so excited about the result of a Summer League game. The fact that these three happened to meet organically and one of them discovered he was going viral mid-order at Chipotle. That the random act of joy can be misunderstood by so many miserable people.
In all seriousness, a 40-win season would be cause for major celebration in California's capital. The Kings haven't reached that number since the 2005-2006 campaign. Want to know how long ago that was? Corliss Williamson was on the team. Cake's song Arco Arena was only five years-old. The Big Lead did not exist. Makes you think.
There's no reason to get serious at 7 a.m. on a holiday, yet it's worth pointing out that too many fans have unreasonable expectations and could learn a few things from setting the bar at a reasonable height. Forty wins is a pit stop on the road the Kings want to follow. As a Pistons fan, I can say that winning 40 games next year would be an absolute delight. Hell, if any of the Detroit teams finished with a winning percentage of .488, there'd be similar scenes downtown.
So hell yeah, bros. Go out there and enjoy potentially winning almost as much as you lose. Block out the noise and finish the Chipotle. Life's too short not to have a good time.